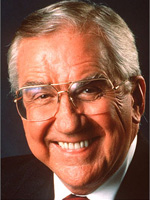 On one hand, I'd be lying if I didn't say one of the first things that crossed my mind with the sad news of Ed McMahon's passing was, "He was still alive?"  Indeed, McMahon, a fixture of my childhood, hadn't exactly planted a flag of relevance on my life for a number of years, but nevertheless, it's kind of a punch to the gut to wake up to this kind of thing.
He was Johnny Carson's "Tonight Show" sidekick, holding down the couch night after night throughout my youth.  He was the "Star Search" guy, a benevolent figure to a number of today's entertainers as they got their first big break.  He was the guy you hoped to open the door to with a giant Publisher's Clearing House envelope in tow.  And, of course, he had his hand in the movie business.
He was all these things, yes.  He was an American staple.  He wasn't an artist whose genius will never spark again, but something perhaps a little more.  He was a figment of the entertainment business whose likeness is gone forever and whose passing marks, poetically in league with the recent programming particulars at NBC, the end of an era.
Here's a clip for nostalgia.  You don't get this brand of classic comedy on late night anymore.  Maybe on Letterman from time to time: