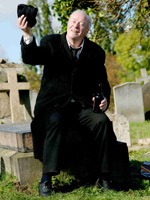 Over at Variety, newly minted editor-in-chief Tim Gray writes what we've been mentioning around these parts for a while: the first half of the 2009 film year is decidedly bereft of anything that might be deemed "Oscar-worthy" come January 2010.
Aside from "Star Trek" and "Up," the recognized critical faves of the year thus far, the best films I have seen are Kathryn Bigelow's "The Hurt Locker," Anna Boden and Ryan Fleck's "Sugar," Duncan Jones's "Moon" and Michael Mann's "Public Enemies," but I expect only two of those could stir the awards pot.
Critics have also responded, intriguingly, to Sam Raimi's "Drag Me to Hell," but I think we all know it's safe to strike that one from the awards roster.  And Focus Features' "Coraline" is likely to make an impact on the animated feature race, but beyond that, you'd be hard-pressed to offer much in the way of a solid list as we approach the mid-way point.
Of course, that just means, as usual, the likely Oscar contenders this year will be back-loaded in the fall.  Gray asks a number of the obvious questions in his piece but most of it concerns the "rules" of Oscar-watching that we all know and love.
Here's a taste:
Two of the best-reviewed films of the year are Paramount's "Star Trek" and Disney-Pixar's "Up." The pair offer parallels to last year's "The Dark Knight" and "Wall-E" — popular popcorn films that merit serious awards consideration. Many lamented the fact that last year's duo missed out on best-pic Oscar noms. Will that raised consciousness help this year's duo?…

Did enough people see (and love) Overture's "Sunshine Cleaning," Big Beach's Michael Caine starrer "Is Anybody There?," Focus Features' Cary Fukunaga-helmed "Sin nombre" and this week's Summit pic "Hurt Locker"? Last year voters for the Golden Globes and Oscar saluted "In Bruges" — a terrific script, but a February bow and $7 million domestic take — so it's possible dark horses will be remembered.
I'll get around to Oscar updating in the coming days or weeks.  It is the mid-way point, after all, and those things are already outdated in a number of areas.  Soon.