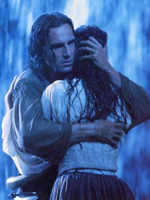 "Public Enemies" lands at the Los Angeles Film Festival tomorrow, and with it, a slew of reviews and Michael-Mann-centric features is sure to follow.  Next week we'll be dedicating an edition of The Lists to the director, but this week I thought we'd put a query out to the readership.  In the simplest of terms, What's your favorite Mann feature?
I've gone ahead and included television's "The Jericho Mile" in case there are those who have seen it and feel it in them to be even more contrarian than picking "The Keep."  I'm really curious to see where this one goes.  There is plenty of "Miami Vice" and "Collateral" goodwill from our largely younger readership, and plenty, I'm sure (like me) who have a devotion to Mann's work in the 1990s.  Even still, his 1980s career is at once of a piece with his portfolio and curiously outside of it, sure to nurture a following.
So have your say in this week's sidebar poll.  Pick your favorite Mann movie and head on back here to discuss why.