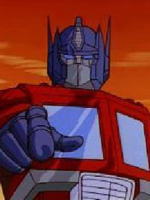 It's panning out to be a good end-of-decade run for Hasbro, the Rhode-Island-based toy manufacturer smartly focused upon in this Dave Itzkoff New York Times pre-release piece for "Transformers: Revenge of the Fallen."  After all, what of substance can you really dig into, journalistically, when it comes to these films?  An internal email that won't matter in a week, if it even does after the weekend?
Anyway, in addition to "Transformers," Hasbro will also finally see its G.I. Joe line make it to screens in August in the form of the reportedly troubled "G.I. Joe: The Rise of Cobra."  But the fun doesn't end there for the company, which saw a heyday in the 1980s that it's hoping to reach once again with revamped versions of old franchises.  A slew of boardgames have been optioned for adaptation, including Battleship, Candyland and Monopoly, as well as Ouiji, which is being developed by "Transformers" director Michael Bay.
Oh, and don't forget about Ron Howard's "Stretch Armstrong."  Silly, of course, but it seems Hollywood isn't willing to place a risk on anything without at least some form of built-in fanbase, no matter how ancient the fan base.
Anyway, Itzkoff gets into some trouble when he probes screenwriters Alex Kurtzman and Roberto Orci for something substantive as it pertains to writing these films.  There's nothing there, chief.  But the more interesting stuff comes with the revelation that Hasbro's chief executive, Brian Goldner, has been aiming the company's revitalization at Tinseltown from the start:
The revitalization of the Transformers and G.I. Joe franchises began this decade under Hasbro's chief executive, Brian Goldner, a veteran of the advertising agency J. Walter Thompson and Bandai America (which makes the Power Rangers toys).

When Mr. Goldner, 45, joined Hasbro in 2000, the company was largely focused on Pokémon imitators and toys licensed from movies. The Transformers had become robots that turned into wild beasts, and new G.I. Joe figures had been phased out in favor of replicas of the vintage 1960s dolls.

"We had relegated these brands to an experience that was limited to the playroom floor or the kitchen table," Mr. Goldner said. "The history of those brands was much more expansive."

Under Mr. Goldner's direction the Transformers action figures and animation returned in 2002 to the characters and stories introduced in the 1980s. After those toys were successful, Hasbro issued updated versions of its '80s-era G.I. Joe warriors and their Cobra enemies. The objective, Mr. Goldner said, was not only to sell toys but also to show the film industry that, cinematically speaking, they were no different from Spider-Man or Batman.
There's also an opening anecdote about how Bay originally thought the concept was lame but saw the light when he visited Hasbro headquarters to receive a thorough education on the narrative involved.  And that didn't make him think it was even lamer?  Anyway, I'll be seeing the new film tonight but I'm hearing bad things (worse than anticipated, in any case).  Read the rest of the story at The New York Times.