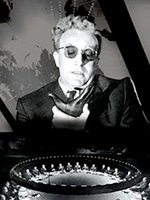 Don't hurt yourself, Dave Kehr:
For all of his technical brilliance, Kubrick had no discernable sense of humor and many of the gags in "Strangelove" — from the broad puns of the character names to the overdrawn figures of Peter Sellers's Strangelove and Sterling Hayden's Gen. Jack D. Ripper — seem less funny as their audacity has drained away. Lines like "Gentlemen, you can't fight in here! This is the War Room!" now seem more labored than deliciously droll.

Steeped in the improvisational ethic of the early '60s (Nichols and May, the Second City) the film may be at its best in those low-key moments when Sellers, playing the American president Merkin Muffley, chats nervously on the hot line with the unseen Soviet premier — moments that owe everything to Bob Newhart's classic telephone routines. "Strangelove" is a rare case of a film that has become a classic more for marking the end of an era (of high cold war paranoia) than initiating a new one.