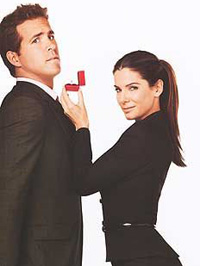 With absolutely nothing targeted towards the date crowd yet this summer, Sandra Bullock and Ryan Reynolds took the stalest looking romantic comedy all the way to the top of the box office with $34.1 million. That's far and away Bullock's best debut as she's used to figures in the high teens and then leggy runs after that. For Reynolds, well, it's not even his biggest opening this summer but he now has thousands of Grandma's to count as new fans. Given the dearth of direct competition, I think this has enough gas in the tank to get to $100 million.
Way past that figure is "The Hangover," dropping a microscopic 18% in second place for $26.9 million and $152.9 million total. There's not much left to say here except that this is a film that tapped into the zeitgeist and there's no duplicating or explaining it. Moving on.
"Up" also held well, passing the domestic total for "WALL-E" and it's still in the top three. While the film certainly stands on its own, some of that success is due to "Ratatouille" and "WALL-E" building the company's reputation amongst adults. They set 'em up, and Carl Fredricksen knocks 'em down.
Fourth place is where you'll find the other new release, "Year One." Plagued with bad buzz from vitriolic internet users, a $20.2 million opening isn't actually half bad. The Friday to Saturday drop is, however, and this will be lucky to get to $50 million total. It may not make it's money back until way down the line but nobody's getting fired over this one and Michael Cera will live to see another painfully awkward day.
"The Taking of Pelham 123" derailed (get it!?) by slipping 52% in week number two, which suggests that it's playing more like an action film for teenagers than a thriller for adults. Luckily, Travolta has "Old Dogs" coming out so don't rule him out of the Oscar race yet folks.
Woody Allen saw a big debut for "Whatever Works" in only nine theaters. An expansion will surely follow although nearly 50% of the gross came from the two screens in New York so keep that in mind if you live in Sheboygan and can't wait to see it.
Busy week for me at the movies. I slapped $10 down for "The Girlfriend Experience" and "The Art of Being Straight." I'd place the former somewhere between "Full Frontal" and "Bubble" (and give it a whole-hearted endorsement), while the latter was made by a friend so my opinion is biased. The Los Angeles Film Festival also kicked off and I checked out three films there. "Dernier Maquis," "Big Fan" and "Wah Do Dem," and since "Big Fan" is the only one likely to make it to cinemas, I'll only spew my opinion on that one: not a big fan.
Next week is make or break time for the 2009 summer box office. With no film yet to cross $250 million, if "Transformers: Revenge of the Fallen" doesn't shatter some records, the chances of equaling last year's take get greatly reduced. Luckily, shatter records is exactly what it looks like it'll do.The film opens on Wednesday, so I think it can run away with $185 million by Monday morning.
Some depressing cancer movie also opens but who wants to celebrate America's birth with that? I don't care if Cameron Diaz is in it. "My Sister's Keeper" should make $10 million for just the three day weekend.
What do you guys think?  Here are the weekend's top domestic grossers, courtesy of Exhibitor Relations: