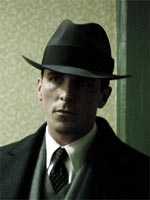 Christian Bale has been given something of a rough ride of late, with the combination of unfortunate media attention and a dreary turn in the woebegone "Terminator Salvation" slightly stripping the varnish from an otherwise solidly built career. Thankfully, Michael Mann's "Public Enemies" has arrived just in time to restore some respectability, though early word on the film places him very much in the shadow of Johnny Depp.
However, critic and "Biographical Dictionary of Film" author David Thomson's admiration for Bale remains undimmed:
If you remember the remake of 3.10 to Yuma, it wasn't the swagger of Ben Foster and Russell Crowe that stayed in the mind. Theirs were flashy or lazy performances, compared with the haunted gaze and stillness of Bale as the ordinary man who had seen that he was going to die.

Indeed, he's acted as if he felt like a character actor, and as if he saw no reason why anyone could expect to be mature until 35 or so – his age now. If I were Johnny Depp, I'd be worried – after all, you know what Depp's going to do in Public Enemies, don't you? He's going to shoot you down and grin – it's an old movie habit. But the killers on the side of the law are often darker figures, because they believe it is their duty. Ever since Empire of the Sun it has been clear that Bale understands madness, and can do it without being melodramatic.
We've discussed the increasingly perverse nature of Thomson's arguments before, but comparing Depp's and Bale's performances in "Public Enemies" without having seen the film is flaky even for him. (Particularly without even second-hand word to support his claim.) And I can't agree on the first paragraph either — I wasn't as keen on "3:10 to Yuma" as others, but it was very much Ben Foster who stayed in my mind from that one. Sometimes "flashy" is as bright and attention-grabbing as the adjective implies.
Anyway, it makes a nice change to read some unalloyed positivity from Thomson, without his libido getting in the way.
Related Posts