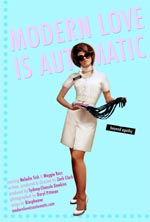 With over 100 new feature films appearing at the Edinburgh this week, and a chaotically overlapping schedule of press screenings to work with, the choice of what to see can be a bewildering one.
With previous festival cred behind them, the likes of "The Hurt Locker" or "Fish Tank" hardly have to fight for your attention, but the programme is packed with underexposed, unbuzzed titles that have to rely on word of mouth, or just gut instinct, to get seen.
It's this lucky-dip process that makes festivals fun, whether you're rewarded with the smug satisfaction of happening upon a hidden gems – or simply the knowledge of why no one is talking about a certain title. What follows are three under-the-radar titles that typify the mixed fortunes of the festival experience.
"MODERN LOVE IS AUTOMATIC" (***)
I probably wouldn't have unearthed Zach Clark's delicious, unapologetically avant-garde sophomore were it not for a tip-off from our own Chad Hartigan, which would have been my own significant loss. A study of sexual politics in the postern age of disassociation and consumerism, with precisely none of the dry academic heft of that pitch, "Modern Love" more resembles the kind of candy-colored, off-the-cuff riff that might have emerged if Andy Warhol had ever tried his hand at "Sex and the City."
The physically imposing Melodie Sisk plays Lorraine, a bored, perversely inarticulate nurse who, following an indifferent breakup with an unfaithful boyfriend, plunges headlong into a phase of hardcore S&M practice, in an apparent attempt to reconnect with any sense of human desire. Using sexual deviance as a means of rehabilitating normal romantic impulses is an exciting narrative arc, though Sisk's obstinately (and intentionally) one-note performance ensures that pat life lessons aren't on the menu.
As amusing as Sisk's channelling of a Warhol muse via Bettie Page is, the film's greatest asset is Maggie Ross, a knockout as Lorraine's roommate, a chipper, tragically deluded would-be model whose catwalk ambitions are gradually eroded by a bizarrely demeaning job as a mattress-saleswoman-cum-hooker. Ross's sad, mordantly funny performance touches on a complex realm of female wants and insecurities, and provides this occasionally gleefully clinical film with its heart.
"JERICHOW" (**)
I had high expectations of German helmer Christian Petzold's latest, an initially slavish (and in its conclusion, wildly divergent) updating of "The Postman Always Rings Twice," that garnered admiring notices upon its debut in competition at last year's Venice fest. But while the James M. Cain chestnut has provided the basis for at least three great films to date, Petzold abruptly breaks the pattern by stripping the material of its sexual and practical urgency, just when the stakes need to be raised.
Benno Furmann plays Thomas, a penniless returning soldier (from Afghanistan, a nod at social currency that is never really built upon) who takes a menial job as a driver for wealthy, alcoholic Turkish immigrant Ali (Hilmi Sozer, in by far the film's most affecting performance), and promptly falls hard for his employer's attractive, dissatisfied wife Laura (Nina Hoss). Following the template of the Cain story, Thomas and Laura hatch a plan to kill off Ali, but Petzold's abrupt finale stops short of the original's coda of moral retribution, rendering the whole narrative rather anecdotal.
Furmann, who looks and moves distractingly like a Nordic cousin of The Rock, simply hasn't the requisite ambiguously carnal presence to shoulder the enterprise, while Petzold's politely observant approach takes the film into similar tonal territory to last year's Austrian Oscar nominee "Revanche." Like that film, the irrelevantly titled "Jerichow" will have its followers, but I prefer my melodrama with dirt under its nails and blood under its hands.
"WHITE LIGHTNIN'" (**1/2)
Meanwhile, British debut filmmaker Dominic Murphy's manically unhinged "White Lightnin'" provided more than enough dirt and blood to make up for "Jerichow's" deficiencies, but narrative cohesion and character nuance were rather more lacking. An essentially imagined biopic of cult Appalachian mountain dancer Jesco White, the film raggedly follows its subject from childhood-rooted battles with mental illness and chemical addiction through to full-blown adult mania, culminating in a would-be redemptive rampage of unrestrained blood-letting.
As such, the film is certainly never dull, and Edward Hogg's up-to-eleven performance as the charismatic but irreparably broken White is something to see. (Moreover, in a spectacularly odd bit of casting, Carrie Fisher is initially a hoot, and ultimately rather moving, as the frumpy, much-older housewife with whom White ill-fatedly shacks up.)
But in aiming for a stylistic representation of its protagonist's addled state of mind, lurching on a hair from folksy heartland comedy to grisly, no-holds-barred horror, the film proves a wearying endurance-test with no empathic figures to ground it. Meanwhile, the unrelenting hick-stereotyping of West Virginia folk would leave a sourer taste if the film exhibited matching restraint in any other department. A fascinating, if unedifying, curio.