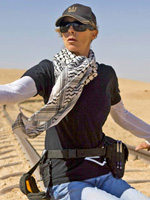 In this weekend's Sunday New York Times, film critic Manohla Dargis falls in love with director Kathryn Bigelow all over again.  I wouldn't necessarily say the astutely written profile fawns over the "Hurt Locker" director, but it's a more passionately open and admiring piece than one typically expects from the usually biting and removed Dargis.
As you would expect, much of the piece concentrates on Bigelow's unlikely career in an industry dominated by men.  But for Dargis, the fascination of the subject, of course, lies in Bigelow's artistic attraction with the concerns of men.  That attraction is rendered with penetrating character strokes in "The Hurt Locker," which Guy recently reviewed out of Edinburgh.  The film is a meditation on war as an addiction, packed with some of the year's finest performances and calculated in its delivery.  In that way it is actually intriguing that the film will share multiplexes with Michael Mann's similarly measured "Public Enemies" in a few short weeks.
Here's is the meat of Dargis's profile:
"It was a no-note experience," she says, referring to the suggestions that movie executives like to issue — and enforce — "absolutely zero interference." She laughs when I ask if she might become addicted to the freedom, much as the bomb tech played by Jeremy Renner in "The Hurt Locker" becomes hopped up on war. It's a ludicrous comparison, granted. But moviemaking is littered with broken spirits, and there's something improbable about the longevity of her career in the mainstream. Partly because, yes, she's working in an sexist field where even female studio chiefs are loath to hire female directors, but also because of the stubborn persistence of her artistic vision and intellectualism. She's still investigating signs and meaning, but now through genres she deconstructs and sometimes immolates…

The number of male mentors and aesthetic influences seems instructive as does her seeming discomfort when I ask why she likes to make movies about men. It's one of the few times when she searches for her words. She mentions Richard Serra, whom she's known for years, and "Torqued Ellipses," his curvilinear steel sculptures that weigh about 40 tons apiece and which she describes as "real statements of power." Suddenly I'm reminded of the moment in "K-19" when the camera glides between two submarines sitting parallel on the surface of the water, a glorious image of heavy metal that is itself a statement of power. When she was painting, she says, she loved "big, gestural, visceral, raw, immediate pieces." She starts to move her fingers, as if she were sewing.

"Nothing really struck me," she says, of the art she first loved, "that was tight and precise and patient and careful and perhaps more introspective. Perhaps," she laughs, "it's just a sensibility defect."
Meanwhile, Jeffrey Wells recently bumped into Bigelow's ex-husband, director James Cameron.  Rather than rattle off the expected list of "Avatar" queries, Wells took a moment to ask Cameron his thoughts on "The Hurt Locker."  Here is how Wells tells it:
I asked Jim how many times he's seen The Hurt Locker, directed by his ex-wife Kathryn Bigelow, and he said twice. I told him I've seen it four times. He said he feels slightly responsible for her making it since they had a discussion two or three years ago about which project she might do. At some point Kathryn mentioned "this other thing" about Iraq as a kind-of secondary option, and Cameron told her, "Are you kidding? You should do this. This is a report from the front and people need to see it." I told him I think it's her finest film by far, and he seemed more or less on the same page.
"The Hurt Locker" opens in limited release Friday, June 26.