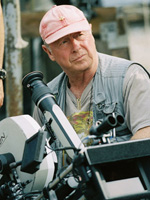 Just the other day I mentioned the new-ish "Facebook for cinephiles" website The Auteurs and how it's a breath of fresh for those of us who'd like to have certain classic films at the click of a button.  But in addition to the social networking component, there is also an editorial side to the site.
The Auteur's Notebook features frequent contributions from former Premiere film critics Glenn Kenny (which is what brought me there in the first place some months back), but the blog also features other regular authors. One such is Ignatiy Vishnevetsky, who, as part of his weekly "What is the 20th Century?" series of columns, has shrewdly conveyed his sentiments regarding cinema and its constructs in the modern age.
Vishnevetsky's most recent item concerns the leader of a film set, the director, and what that role has come to mean for a number of today's working filmmakers.  It's a fascinating dissection of a wide variety of helmers, from Abderrahmane Sissako to M. Night Shyamalan to Michael Bay. But what really caught my eye was Vishnevetsky's classification of the prolific Tony Scott.
Here's the key graph:
The thing about Scott is that he isn't working towards an image; he's discovered something beyond it: the screen. It's offensive to many of us, because it violates the traditional distinction between the "cinematic" and the "televisual:" cinema is a frame while television is a screen. A movie projects us images to see in some sort of order, while a TV is a surface, images rising and crashing like waves. And, like waves, they are all part of an ocean, the same water returning again and again, as amorphous as the movie image is supposed to be rigid. Scott is uninterested in the distinctions created by edits, uninterested in the images individually: he is only interested in the movie as a surface, bubbling, boiling, sometimes dead calm, sometimes a hurricane. We've come to think of the image as a single unit that can be contextualized and subdivided; Scott thinks of the film itself as the unit to which elements are added or subtracted the way a cameraman might adjust a framing or a technician might adjust a light. Scott began as a cinematographer; he's remained one, except now he applies a cinematographer's logic to a movie instead of a shot.
Even though I have a weird soft spot for "Spy Game," part of Scott's post-"Enemy of the State" obsession with frenetic filmmaking, and certainly enjoyed classic actioners like "Top Gun," "Days of Thunder" and "Crimson Tide," I have to say, I agree wholeheartedly with Vishnevetsky's assessment.
Furthermore, it's fascinating to me that the excerpt above could be equally read as a backhanded slap of criticism or an even-handed analysis of a filmmaker with a process as viable as the next guy's.
Read the rest over at The Auteurs' Notebook.