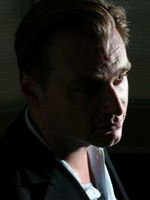 Bill Ramey over at Batman on Film has posted a rather disconcerting report this morning regarding the status of Christopher Nolan's involvement with a third film in the lucrative Batman franchise.  The info, which is hardly concrete, comes from one of the numerous Bat-related sources Ramey has acquired over 12 years of focusing his site on the development of these films.
Ramey hedges his bets and writes what we all know, that "it is far from a given" that Nolan will return for another go.  But he offers a few bullet-pointed reasons from his source that certainly make a lot of sense.  Among them, says Ramey's guy, "the death of Heath Ledger rocked Mr. Nolan hard," and the project is back to square one with a virtually non-existent story due to the initial planned inclusion of the Joker in the third film.
It has been reported that Warner Bros. has a shortlist of preferred directors to step in should Nolan decide to walk away from the director's chair.  The studio is going forward on this whether he is or not, we can all be sure of that.  "Watchmen" director Zack Snyder was one of those names, but Snyder's people told Ramey he has no interest in tackling the project (thank God).  But if not Nolan, then who?
Before I start this wave of spit-balling, I have to say at the top here that nothing is settled.  Nolan may be content to move from "Inception" to the next stage in his career and leave the Caped Crusader behind, or he may eventually come back around to the project, rendering all of this moot.  But if the studio finds itself in the unenviable position of seeking out a replacement, I think all involved should think a little harder about this.
Snyder, after all, has too stylized a sensibility to seamlessly step in and continue this story.  Someone with a combination of visual storytelling panache and commitment to realistic imagery is what we need.
David Fincher was rumored to be in the hunt in those pre-"Batman Begins" days, and though he can have a definable thumbprint as a filmmaker, he's also proven he can be slightly more anonymous in that role.  Darren Aronofsky was developing an awful "Batman: Year One" project years ago, though I think the scale of these films is a bit beyond him for now.
A completely outside-the-box possibility is Fernando Meirelles, but that would be a risky move.  Then again, tapping Nolan from the outset was risky, so maybe the studio is willing to gamble just a little on a proven artistic talent.
Paul Greengrass would be a real coup.  He had his sights set on "Watchmen" for a time and he straddles the line of art and commerce nicely.  With some level of involvement from a skilled screenwriting team (rather than streamlining the narrative into one long set piece like he did with the last two "Bourne" installments), he could really spark yet another franchise.  But there's really only one guy on my mind for a gig like this.
Even though he'd never do it, I think the folks at Warner Bros. owe it to themselves to approach Michael Mann.  Mann makes films about people defined by what they do, molded by their professions, and in some sense, trapped by them.  I'd say that describes the Dark Knight to a T.  Furthermore, Mann has a similar (though certainly superior) cinematic vocabulary to Nolan's.  Even if it becomes as simple as "Mann needs a paycheck" in the wake of "Public Enemies," all I'm saying is, he would bring a lot to the table.
Anyway, like I said, this is all worthless speculation for now.  Best case scenario, Nolan returns and we get another film in a couple of years.  But in lieu of that, I certainly think there are options and I hope people in a position to seek out those options are actually thinking about this and not just throwing money at it.
Who do you think would be a good replacement should Christopher Nolan decide to walk away from the Batman franchise?  Have your say in the comments section below!