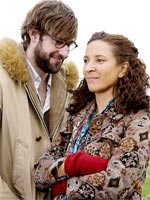 Tuesday dawned gray, gusty and rain-spattered here in Edinburgh – the kind of morning where there's nothing for it than to bury oneself in the comforting recesses of a dark movie theater – which, handily enough, is all that I had on my agenda for today.
After formulating a strategy over breakfast as to which films could be caught at a later date, I ended up deciding morning's viewing with a coin-toss, a concession to fate that happily led to the droll delights of Australian animation "Mary and Max," before my afternoon was given over to the festival's rather more glossy opener, "Away We Go."
As I write, Sam Mendes and cast members John Krasinski and Maggie Gyllenhaal are treading the red carpet to formally christen this year's festival. (Not joining them is female lead Maya Rudolph, who, in an irony apparent to anyone who has seen the film, was unable to fly to Edinburgh because she is eight months pregnant.)
It's a fitting opener, in the sense that its carefully negotiated balance between indie outsiderness and cozy Hollywood warmth reflects the transitory state of the Edinburgh Film Festival as a whole. Symbolic neatness aside, however, I see no context in which "Away We Go" (**1/2) can't be regarded as a major disappointment from Sam Mendes.
Kris has already offered his sceptical thoughts on "Away We Go," and now that it's out in the open for American audiences to peruse for themselves, so I'm not going to spend too much time discussing the film, but I was sad to see it sustain every concern raised for me by the trailer, from the twee affectations of writer Dave Eggers' dialogue to the maddening singer-songwriter noodling that seemingly pervades the film's every quiet moment.
Krasinski and Rudolph make appealing travelmates, but neither has the cinema-scale charisma to charge the film's episodic languor. An oddly overcooked cameo from Maggie Gyllenhaal, someone who does have said charisma, only drives home the smug solipsism of the writing, which prioritizes neat social irony over character logic and continuity.
The film's ultimate cop-out comes in its conclusion, an absurdly idealized bit of Hollywood wish-fulfilment that strips its intended social currency of any bite (not to mention sincerity) whatsoever. Though fleetingly diverting, it's easily Mendes's glibbest, most impersonal work to date – perhaps he should take longer between films after all.
Perhaps telling of the critical response to the film from the Edinburgh crowd, this afternoon's press conference was a quiet, relatively ill-attended affair in which journalists seemed to circle around the film itself – though it was enlivened by the affable good humor of both the director and his leading man. (Best line of the afternoon came from Kransinski on his nervousness over growing a full beard the role in his brief "The Office" hiatus: "Luckily, puberty hit shortly before production started.") Joining them was the stunning but otherwise just happy-to-be-there Scottish actress Carmen Ejogo, who plays Rudolph's sister in the film.
Mendes credited himself by dodging most of the leading questions that sought to draw emotional resonances from the contrast between "Away We Go" and "Revolutionary Road," matter-of-factly stating that he didn't actively go looking for a more upbeat script, but rather that it found him. He did, however, allow that he's "not really a Yatesian" (a reference to "Road" author Richard Yates), and that "Away We Go" veers "closer to (his) personal philosophy of relationships."
He appears genuinely proud of the film and its atypical optimism, linking it to his previous work in the sense that it also studies ordinary folk struggling through life, but noting with a wry smile that "the difference here as that in this film they actually find a way through."
Speaking of his previous work, Mendes dangled an intriguing soundbite by venturing that "American Beauty" is "a film very much of its time that got lucky … I do believe it wouldn't have been as successful released at another time." I'm sure I'm not the only one who wanted to tease that thought out further; perhaps tomorrow evening's career Q&A with the director will afford further insight.