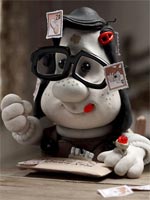 Today's Edinburgh talk may have centered on festival opener "Away We Go" (more on that to come), but the day's real delight was "Mary and Max" (***1/2), an alternately disarming and disconcerting feature debut from claymation maestro Adam Elliot, who won a 2003 Academy Award for his short "Harvey Krumpet," and carries that film's decidedly adult-level cuteness into his new effort.
As "Up" continues accumulating valentines from critics across the board, "Mary and Max" forms some interesting parallel points to Pixar's mega-hit, with both films employing the gentleness of the animated form to address difficult themes of loneliness and social isolation, and doing so via an unlikely friendship between misfits young and old.
Of course, the relationship at the core of "Mary and Max," which details the accidental but long-enduring friendship of correspondence between a neglected 8 year-old girl in Australia and a middle-aged New York man emotionally crippled by Asperger's Syndrome, will likely raise far more eyebrows than "Up," which is probably why the film is still seeking a U.S. distributor months after its warm reception at Sundance.
I can only hope it finds an audience, because despite its courageously adult subject matter (suicide, alcoholism, homosexuality and mental illness are just some of the issues it touches upon with a deft, compassionate hand), this is a film that I can imagine speaking to a family audience beyond the hipster quotient that oddball animation usually targets these days; discerning children should delight in the wide-eyed frankness of Mary's narrative voice, and the quirky visual details of Elliot's monochromatic story world, which resembles Aardman by way of "Belleville Rendezvous." (For my part, I was just tickled by the pragmatic eccentricity of a young girl who dreams of naming her dog Kevin.)
Adults, meanwhile, can relish the rare pleasures of character-oriented animation that needs no Disneyfied adventure to sustain its narrative, accompanied by the quite brilliant vocal performance of Philip Seymour Hoffman as Max, which unusually dissociates us from the actor's real-life persona (Max is a working-class New York Jew) and gradually reveals the psychological defects of the character with wit and dignity; it deserves any voice-acting plaudits going. Toni Collette and Eric Bana are also on board to beef up the star quotient, which will hopefully aid its chances at a U.S. deal – buoyed by critical support, this is the kind of endearing, exotic specialist item that could be an awards-season dark horse.
Speaking of which, the film was preceded by a screening of a nifty American animated short, Bill Plympton's "Horn Dog," which tells the tale of a lovelorn mutt with a funky pencil-drawn aesthetic and a wicked streak of surreal black humor. Plympton has twice been Oscar-nominated in the past, and as much of a shot in the dark as Oscar's short categories are, I wouldn't be at all surprised to see this one tickle the Academy's fancy too.