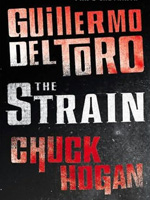 Has anyone read Guillermo Del Toro's "The Strain" yet?  The new novel from the genre filmmaker hit shelves weeks ago but I've yet to pick up a copy.  It keeps slipping my mind.  This Guy Adams interview with Del Toro in London's Independent newspaper jogged the memory on that score earlier this morning.
It's a fantastic discussion.  Del Toro discusses everything from his "man cave," a haven five blocks form his Los Angeles home that serves as a personal office and shrine to the many macabre artifacts that became just a little too much for his wife, to his well-reasoned thoughts on video games, which he says he plays "addictively," deeming them "a living, breathing thing, narrating stories, and illustrating them in the most incredible way."
There is also, of course, plenty of discussion concerning "The Strain," which I didn't realize was conceived for the small screen.  Some bozo executive opted out of such a fascinating antidote to the recent swath of uninteresting, overly romanticized visions of the vampire world in pop culture, of course.
Here's how and why the story found its way to book form as a planned trilogy:
Originally, del Toro intended The Strain to be a procedural TV series, filmed in an episodic style like The Wire, the Baltimore cop show of which he's a huge fan. He sketched out three seasons, and began mulling over a script, but the show was thwarted by the dead hand of network TV executives.

"I prepared what is called a Bible: a massive document about the show's story arc," he recalls. "I prepared three seasons. I went to Fox and showed them the Bible. And they came back to me saying, 'we would love to do a vampire series, but we'd prefer a comedy'."

Instead, del Toro settled for the next best thing: hiring Hogan as a co-writer to help turn it into three horror novels, which will be released each summer until 2011. He describes their partnership as a "promiscuous, beautiful affair" in which they batted drafts back and forth (he claims he was insufficiently skilled at writing dialogue to do the project alone), and wonders why more screen-writers haven't turned to the old-fashioned literary form.
Furthermore, as a writer, I have to say it's always refreshing to read a fellow sufferer bemoan the painful (or, as Del Toro puts it, "punitive") process that is screenwriting.  Del Toro says he found writing a novel to be liberating in the face of such typical woes.
I also have to offer a separate space for this intriguing aside that offers some insight into Del Toro's usual thematic choices:
"When mankind needed to eat and sleep as cavemen, we spent time making fire or finding water. We dealt with material things. But as soon as we wanted to figure out ourselves, we came up with angels and demons," he says. "We invented them to figure out ourselves. So I believe monsters are the key to understanding the universe. And I always try to write, and make movies where I play with that idea."
He's a fascinating guy.  And makes for a solid feature story.  Read the rest here.  And if you've had a chance to read through "The Strain" yet, please rattle off your comments below.  I'm eager to hear more.
In case you missed it when we mentioned it a few weeks back, Del Toro recently talked about the novel on "The Late Late Show with Craig Ferguson":