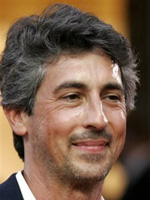 From Screen International:
Festival co-directors Tom Luddy, Julie Huntsinger and Gary Meyer have invited Payne to select a series of films to show at the prestigious Colorado-based festival. The festival chooses a guest director each year, with past participants including Salman Rushdie, Peter Sellars, Don DeLillo and Slavoj Zizek.

As with the rest of the programme, Telluride will keep Payne's selections top secret until the festival kicks off on September 4.

"I have had the pleasure of knowing Alexander for many years – from the time he was a Stanford student who came to see rare films at the Pacific Film Archive in Berkeley and throughout his career," Luddy said. "I have long admired his work and his obvious love of the art of film. Our partnership with him on this year's Festival has been seamless."

"Alexander has succeeded in programming a group of films with both rarity and variety," added Meyer. "We have a sophisticated audience at Telluride and he has met the challenge and exceeded our highest expectations."
We anticipate covering the Telluride fest here at In Contention for the first time this year.  More as it comes.  The season's right around the corner…can you believe it?