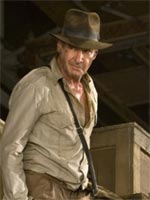 Power and money don't go hand in hand, it would seem.
If Forbes' recent list of the world's most powerful celebrities — you remember, the one that informed us that Angelina Jolie and Jennifer Aniston wield more power than Barack Obama — was quite amusing, their new ranking of Hollywood's 20 biggest earners is simply depressing.
The list is headlined "Hollywood's Top-Earning Actors," but Forbes never makes clear whether the term "actor" is being applied in the currently PC gender-neutral sense, or whether an accompanying list of "Top-Earning Actresses" is on the way.
It's an interesting question, because while the aforementioned Jolie may apparently be the world's most powerful celebrity, she evidently doesn't have the clout to rank among the industry's most well-paid. More to the point, nor does any other woman, with the top 20 a boys-only club — an unhealthy, if sadly unsurprising, state of affairs. Is this represantive of the industry's gender divide, or has the list been segregated? Anyone?
But even leaving that issue aside, there's plenty of cause for concern in the list, which in some cases, shows an alarming disconnect between actors' earnings and their commercial (to say nothing of artistic) contribution to the industry. Let's take a quick gander at the top 5 (amounts represent earnings in the past 12 months):
1. Harrison Ford ($65 million)
2. Adam Sandler ($55 million)
3. Will Smith ($45 million)
4. Eddie Murphy ($40 million)
5. Nicolas Cage ($40 million)
Now, as undeserving of success as their films may have been, I must reluctantly concede that the first three gentlemen all served up hits of some degree last year. But Eddie Murphy? With the back-to-back bombs of "Meet Dave" and last weekend's "Imagine That," how exactly is her earning his keep? And were "Bangkok Dangerous" and "Knowing" successful enough to qualify Cage for such a lofty standing?
But speaking idealistically for a moment, it speaks volumes that, between them, these five guys managed to churn out some of the very worst films of 2008. In addition to the aforementioned debacles from Murphy and Cage, what kind of message does it send when tripe like "Indiana Jones IV," "Bedtime Stories," "You Don't Mess With the Zohan," "Seven Pounds" and "Hancock" is what sends actors to the top?
You have to go down to #7 if you want to find an actor who at least entertained us in '08 (and even that's a generous citation for Tom Cruise's "Tropic Thunder" cameo), and further down to #14 to find someone (Robert Downey, Jr.) who really socked it by pleasing everyone (audiences, critics, even Oscar voters) last year.
Moral of the story? The more you make, the less you try. Suddenly an economic recession has never seemed so appealing.