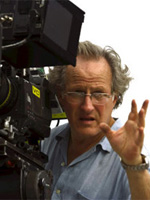 There's a reason Michael Mann is my favorite working director.  Consistently saddled with accusations of unyielding perfectionism and idiosyncrasy, he is a filmmaker who sets out to make exactly the film he wants to make every time, and he has the goods to back up the artistic aggression.  The last two times out of the gate (2004's "Collateral" and 2006's "Miami Vice") didn't exactly capitalize on his considerable talents, but when "Public Enemies," which I saw last night, plays the Los Angeles Film Festival next week and eventually opens nationwide July 1, I think audiences and critics alike will see it as a return to muscular, yet patient storytelling form.
Patrick Goldstein, writing at The Big Picture blog in the Los Angeles Times, has crafted a wonderfully fair and engaging interview piece with the director (which is also a coup for Universal publicity).  He doesn't skirt the issue when it comes to Mann's industry infamy, dedicating a considerable chunk to the director's professional head-butting with Sony honcho Amy Pascal concerning the particular's of 2001's "Ali."  But the work stands head and shoulders above the off-the-screen conflicts every time.  Says Pascal in the piece, "You forget about the pain of childbirth too. I mean, whatever you go through, you still want another baby. It's like that with Michael too."
I also have to give it up to Mann's professionalism when it comes to publicity, shutting down Goldstein when it came to a similar discussion regarding Johnny Depp's supposed lack of patience with Mann's exacting on-the-set process.  "For me, what goes on in a film set is sacrosanct," Mann tells Goldstein, "so I have nothing to say about what went on."
All this discussion about Mann's 66-year-old swagger and bad boy tenacity makes for a great lead-in to what I consider the meat of the piece, a two-graph juxtaposition between the director and the subject of his latest film:
It's not so hard to see parallels between Mann, who has the fierce independence of an earlier generation of Hollywood filmmakers, and Dillinger, who is portrayed in "Public Enemies" as something of an anachronism, a lone wolf being squeezed out of the bank-robbing trade by the growing corporatization of crime. A key element in Mann's conception of the film — which he wrote with Ronan Bennett and Ann Biderman — is that it wasn't just J. Edgar Hoover's FBI who was gunning for Dillinger, but the newly organized crime syndicates who saw freelance outlaws like Dillinger as threats to their nationwide business aspirations.

"Dillinger was actually obsolete, but he was so damn good at what he did that he managed to survive, despite all the horrible attrition around him," explains Mann, who makes a point in the film of showing that virtually all of Dillinger's cohorts were gunned down before he famously meets his end outside Chicago's Biograph Theater. "There are two big evolutionary forces at work. There's what Hoover is doing with the FBI, with information gathering and data management. And there's organized crime, being cash rich, moving into corporate capitalism, and they don't want these Depression outlaws around [inspiring the Feds to pass crime legislation] against moving money across interstate lines."
I'd be lying if I didn't tell you I want to talk "Public Enemies" in depth right this second, but a June 23 embargo date has my hands tied.  And that's fair enough, because it's a film that deserves some time to percolate.  Check out the rest of Goldstein's inteview at The Big Picture.
(Oh, funniest aside from the piece, what with all the talk of exactitude: "I got a little taste of it myself, cooling my heels in Mann's outer office before the filmmaker came out to meet me, with his assistant explaining that I'd have to wait 'until he finishes thinking.'")