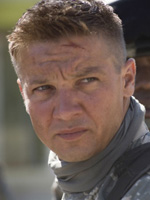 Over at Examiner.com, Jeff Sneider (you know him around these parts as "The InSneider") has put together a rundown of the 10 summer movies that have a shot at awards glory.  In my post-Cannes Oscar column I mentioned how dreadfully quiet the first half of the year has been for awards hopefuls.  After all, this time last year we'd already seen "The Visitor" and "WALL-E" as viable contenders, but this year — nothing.
Sneider is hanging his hat on a number of films he apparently hasn't seen yet (Michael Mann's "Public Enemies," Judd Apatow's "Funny People," etc.), but most of the love goes to Kathryn Bigelow's "The Hurt Locker," which I'll be getting to in due time.  And I can't say I disagree.  Along with the perennial Pixar entry of the year, Bigelow's Iraq character study clearly has the stuff if Summit is willing to go there.  It needs to make money first, of course, which is why we're getting trailers and posters that amp up the action elements.  But it's Bigelow's best work ever and features awards caliber performances from Anthony Mackie and especially Jeremy Renner, both of which are mentioned in Sneider's column.
Sam Rockwell also gets his due for a tour de force performance in Duncan Jones's "Moon," but Johnny Depp gets a back-handed slap vis a vis "Public Enemies."  This one is still up in the air since very few have set eyes on the finished product — director Michael Mann lords over every step of the process.
Here is what Sneider had to say on the matter:
Most "experts" would choose Johnny Depp as the leading summer contender in this category, since his turn as John Dillinger in "Public Enemies" will certainly garner at least some attention from awards voters. But it's confession time, gang; Depp has lost me over the past few years, and I know I'm not alone. Let's look at the history: He was nominated for seven Golden Globes before finally winning in 2008 for "Sweeney Todd." And he's been nominated for three Academy Awards in the last five years, but the movies have been the first "Pirates of the Caribbean," "Finding Neverland" and "Sweeney Todd." Are those REALLY Depp's three best performances? No "Edward Scissorhands" or "Ed Wood," or at least six other performances in six much better movies? So if you're looking for some Johnny Depp love, you'll find it in the potholes of my "Scissorhands" DVD. I jumped off his bandwagon the day he sold out to Disney.
I expect that'll rile up the natives.  Of course I can't exactly comment yet as I haven't seen the film.  I'll know more on that front later tonight, but Sneider raises a pretty good point.  After all, it's the intersection of art and commerce that has most often yielded Depp a nomination for his work.  In the case of "Finding Neverland," it took an Oscar hungry studio in it's final Weinstein days (not to mention a Best Picture nomination).
Now I wouldn't label Universal an "Oscar hungry studio," despite its sterling track record as of late.  It's just not the same mentality over there.  But I think if Mann's film has the goods, and if Paul Greengrass's forthcoming "Green Zone" is too, shall we say, Greengrass for the Academy's tastes, it'll be tough not to sell this presumed marquee performance as an Oscar should-be.  We'll see.
Read the rest over at Examiner.com.