Sorry if there's been a lot of star-gazing on the site lately, but while I was queuing in the supermarket this morning, I was struck by these magazine covers sitting appropriately side-by-side on a display rack. It's interesting and heartening to see major face space given to two actresses on the wrong side of the industry's favored age bracket — contrary to appearances, Uma Thurman is 39, while Julianne Moore is a full decade older.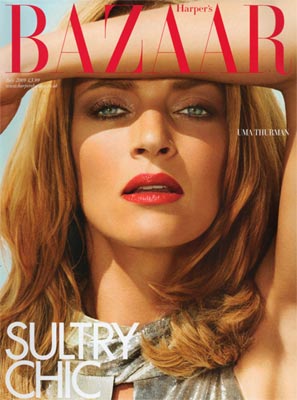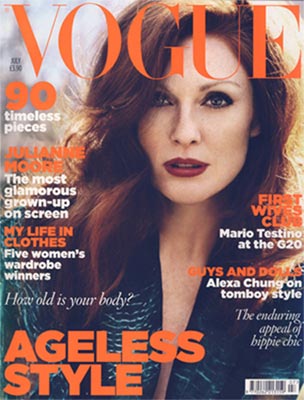 It goes without saying that they both look red-hot, while it's just as redundant to note that they are both among the finest actresses of their respective generations. So where are the roles?
Oddly, neither actress seems to have been granted the cover to promote anything in particular. Thurman's 2009 slate is empty, and unless you regard playing the nanny in the upcoming "Eloise" adaptation as a major get, there's not much to look forward to either. Moore is a little busier, coming off a superb (if criminally underseen) performance in 2007's "Savage Grace," with supporting roles in the rather tepid-looking "The Private Lives of Pippa Lee" (which I'll be seeing at Edinburgh" and Atom Egoyan's latest on the horizon, but it's still a far cry from the glory days of 2002.
If UK magazine editors have enough confidence in these ladies to place them front and center, why can't more Hollywood casting directors?
On another note: Isn't it curious that when Moore can "do sexy" as naturally as she does in the photo below (a shot from inside the magazine), she hasn't been given more opportunities to glam up onscreen? Anyone else think she'd make a dandy femme fatale in something a little noir-flavored?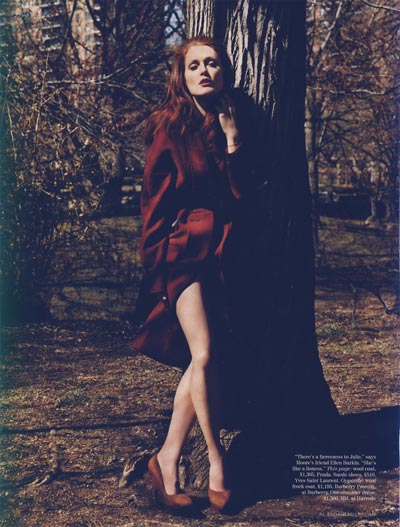 [Courtesy: Stylefrizz]