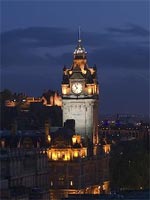 In a little over an hour, I'll be hopping on a (very) early morning train and making the 300 mile journey up north to Edinburgh. Ordinarily, this alone would be cause for excitement — for me, Scotland's capital, with its curious combination of twisty Medieval quirk, stately academia and cooler-than-thou cultural swagger, is one of the most delightful cities in Europe. On this occasion, however, it boasts an extra drawcard — the Edinburgh International Film Festival.
It may lack the glamor of Cannes or the breadth of Toronto, but the EIFF has been modestly chugging along since 1947, making it one of the most senior of all international film festivals. It doesn't necessarily get the glitzy international premieres that the London fest now commands, but it's an essential date on the calendar for burgeoning UK and international filmmakers. Meanwhile, it supplements its sizable showcase of new talent with a scattering of classic retrospectives as well as new works from more established filmmakers.
Like its London counterpart, Edinburgh takes a similar "cherry-picking" approach to programming, selecting a number of proven successes from other festivals, as well as international markets. As a result, this year's festival brings us the UK premieres of Sundance hits such as "Sin Nombre," "Humpday" and "The Maid," while the event I am most anticipating is the first post-Cannes screening of Andrea Arnold's Jury Prize winner, "Fish Tank."
Also making my mouth water is the opportunity (later today, if my diary doesn't deceive me) to finally lay eyes on Kathryn Bigelow's much-fancied "The Hurt Locker." Joining Bigelow is another critical darling from last year's Venice fest, Claire Denis' "35 Shots of Rum." This in turn forms part of a substantial French presence at the festival, with bows for this year's big Cesar winners, the artist biopic "Seraphine" and sprawling, two-part gangster epic "Public Enemy Number One."
Innumerable delights, then. But away from the new(ish) titles, the more nostalgic prospects are no less appetizing, including a screening of the Scorsese-enabled restoration of Michael Powell's exquisite "The Red Shoes" that dazzled cineastes at Cannes last month. On the other end of the aesthetic scale, an extensive Roger Corman retrospective will be capped by a rare Q&A with the man himself.
Indeed, the festival's so-called "In Person" strand is intriguing, with Sam Mendes (here to unveil the festival's opening film, "Away We Go"), Darren Aronofsky, Brenda Blethyn and local hero (sorry, couldn't resist) Bill Forsyth all scheduled to discuss their lives and work onstage. (Forsyth, the brilliant, too-long-dormant Scottish director of "Gregory's Girl," is apparently set to discuss "future plans." About time, too.)
Meanwhile, I'm kicking myself that I can't stay long enough to catch a session with this year's Oscar-winning DP Anthony Dod Mantle in conversation with "Atonement" lenser Seamus McGarvey, but I sadly have to get back to London before then. (Time, and Wimbledon tickets, wait for no man.)
Further proof of the EIFF's ascending profile is the rather impressive jury lineup they've managed to assemble. Joe Wright will head up the panel to determine the winner of the festival's top prize, the Michael Powell Award; among his fellow jurors is newly-minted Oscar nominee Frank Langella. The award, handed to a single film, celebrates originality and vision in British filmmaking; among the contenders for the prize are the aforementioned "Fish Tank" and Duncan Jones's sci-fi effort "Moon," which Kris reviewed a while back.
Finally, so as not to cold-shoulder the non-Brits, a new prize for Best New International Feature has been established. A different jury, which includes the great New Zealand actress Kerry Fox, will award this one, choosing between such features as Australian Sarah Watts's "My Year Without Sex" and American Zach Clark's "Modern Love is Automatic." (A college associate, I believe, of Kris and Chad.)
I'll be wading through all this as best I can, providing you with daily updates, tidbits and reviews where possible. As always with festivals, it promises to be quite a chaotic week, and I'm simply accepting in advance that I can't possibly catch everything of value in a programme this crowded. But in any case, it's best to go into a festival like Edinburgh without too many rigid targets or expectations — in a showcase for new talent, you never know what might hit you.