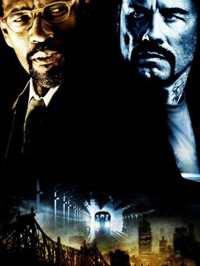 After denying "Up" the bragging rights of a repeat at the top of the box office at the last minute, "The Hangover" has accomplished that feat itself.
The R-rated comedy dropped a minuscule 26% to add another $33.4 million to the bank and give it a very real shot at $200 million-plus. That's a benchmark reserved for very few comedies and only the best of the best like "My Big Fat Greek Wedding" and "Crocodile Dundee."  Speaking of those two, it's a pity Nia Vardalos didn't look to Paul Hogan's career for a glimpse at the dangers of repetitive ethnic-centric comedy. If there's a bigger success story than "The Hangover" this summer, we are in for some big shockers.
Speaking of shockers, I saw the movie this week and I didn't like it at all. Aside from some fresh stuff from Zach Galifianakis, it was pretty stale to me. It's no "Wedding Crashers," that's for sure.
"Up" also held up extremely well, dropping only 31% and staying in the runner-up spot with $30.5 million. It now seems likely to pass "Cars" and wind up the sixth highest grossing Pixar film when all is said and done.* I've always said that miscarriages in cartoons equals big bucks and finally somebody listened.
The first debut doesn't show up until third place and it's "The Taking of Pelham 123". A $25 million debut is pretty much par for the course when it comes to Tony Scott and Denzel Washington but if only they hadn't pissed off the millions of Walter Matthau purists, they might have had a case for the top spot. As it stands, this is neither here nor there and everyone keeps living their lives.
Eddie Murphy fared much worse as he registered his second straight $5 million debut thanks to "Imagine That." That figure will not even cover Murphy's salary (nor will the eventual total). Don't be surprised if he brushes off that "Nutty Professor 3" script in the next few weeks.
"Land of the Lost" crashed and burned by dropping 51% from an already pathetic debut, cementing its status as the first major flop of the summer. I could have told Universal that the difference between $50 million and $250 million is talking animals. One trailer with the T-Rex in sunglasses quipping, "Welcome to the Land of the Lost" and you've got a blockbuster. You're welcome Hollywood.
Prehistoric comedy gets another chance to shine next weekend with "Year One," which is tracking surprisingly low. It looks funny to me but a weekend of maybe $17 million seems to be in the cards.
Looking stronger is "The Proposal," which has absolutely no competition in the date crowd market and should probably see Sandra Bullock's best debut ever. I'm marking it down for $27 million but $30 million or more isn't out of the question.
What do you guys think?  Here are the weekend's top domestic grossers, courtesy of Exhibitor Relations: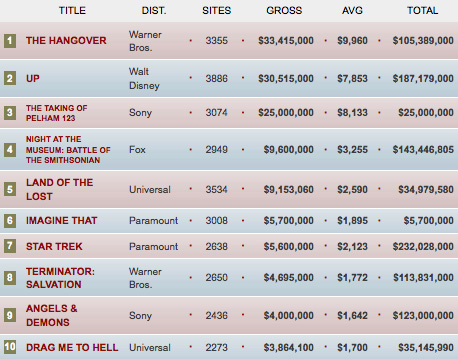 * I use adjusted figures when analyzing box office data.