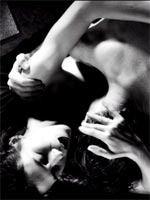 IFC has yet to reveal when it plans to unleash Lars von Trier's "Antichrist" upon American audiences, but it looks like me and my fellow Brits will get to lay eyes on it first. UK distributor Artificial Eye has announced a July 24 release date for the polarizing Cannes sensation, which has been approved, in its uncut form, by the British censors.
The British Board of Film Classification decreed that the film — which, in case you've been living under a rock these past few weeks, features rough sex, gore and graphic scenes of genital mutilation — may be offensive to some viewers, but that its explicitness is artistically motivated:
(BBFC director David) Cooke and company shied away from cuts, saying that the censor's lack of intervention "reflects the principle — strongly endorsed in a number of public consultations — that adults should be free to decide for themselves what to watch or what not to watch, provided it is neither illegal nor harmful."

The BBFC Guidelines for "18"-rated works state that the more explicit images of sexual activity will not be allowed unless they can be exceptionally justified by context and that the product is not a "sex work" whose primary purpose is sexual arousal. Said the BBFC, "For these purposes, 'Antichrist' is very clearly not a 'sex work.' "
Bravo. It should be explained that a UK "18" certificate (which restricts anyone under that age from seeing the film) carries nothing like the stigma that the NC-17 label does in the States. (The stronger "R18" rating, which used to apply to any film featuring unsimulated sex, is now reserved for titles shown or distributed in porn outlets.)
Unlike the U.S. "R" rating, the higher British age restrictions (15 and 18) make no allowances for accompanied minors. As such, "Antichrist" shares its classification with any number of mainstream Hollywood efforts, such as "The Departed" or "Taken." UK censorship is an eccentric but level playing field.
Anyway, roll on July 24. Finally, a summer movie I can really look forward to.