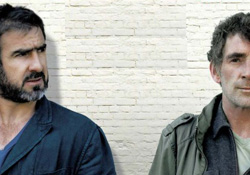 It's been a long time, if ever, since Ken Loach made a film that could legitimately be called a crowd-pleaser, but this is precisely what he has made in "Looking for Eric."
Gentle, undemanding and buoyed by the effortlessly charismatic presence of the titular football god – it's certainly the first Loach film to possess anything approaching star power – it's less overtly comedic than the marketing campaign would have you believe, but also warmer and less agenda-driven than most of his work this decade.
With that said, Loach's renewed emotional engagement has sadly come at the expense of any tonal cohesion whatsoever. As the veteran filmmaker fumbles for the buttons to alternately tickle and touch his audience, his film lurches wildly from a jolly working-class jaunt in the vein of "The Full Monty" to reflective character-oriented miserabilism à la Mike Leigh.
Paul Laverty, Loach's longtime screenwriter, wields neither the broad drollery of the former, nor the penetrating human insight of the latter, so roughly halfway through, he finds a third way: falling back on the earnest social commentary of his and Loach's own "Sweet Sixteen." With the film shifting its story emphasis through each of these multiple personalities, any sense of narrative continuity slips through the cracks.
If it sounds like I'm being overly harsh on a film for which the placatory adjective "nice" might have been invented, it's because not enough people are doing the same: that such a minor-key and formally slapdash film should have played in competition at Cannes is generous enough, but the multiple festival reviews hailing it as some kind of paean to the human spirit are a little puzzling.
It's not entirely a departure for Loach either: he treaded these waters of intimate dramedy with considerably more consistency and stylistic élan in his last great film, 1993's "Raining Stones."
In an initially ingratiating but progressively one-note performance, Steve Evets plays Eric Bishop, a down-at-heel, football-mad postman nursing the debris of two failed marriages (including a pair of surly stepsons who, for reasons never substantially addressed, live with him) and gradually trying to mend his life after a possible suicide attempt. His to-do list includes reconciling with his justly embittered first wife (a quietly affecting turn from the relatively untested Stephanie Bishop) and rescuing his elder stepson ("Shameless" regular Gerard Kearns) from the clutches of a local crime syndicate.
Mentoring him through this is his idol and namesake, Eric Cantona (wittily credited at the end as "lui-même"), who appears to him in vivid daydreams to dispense insouciantly Gallic wisdom. The device is near-identical to the use of Humphrey Bogart in Woody Allen and Herbert Ross's "Play It Again, Sam," with a subtler comic payoff – whereas that film posed Bogart (or his impersonator, rather) as the straight man to Allen's hyper-neurotic, the comedy here circles entirely around Cantona's delicious send-up of his own macho-mystic persona, tossing off such lines as "I am not a man, I am Cantona," with twinkly-eyed relish.
It's not a performance per se, but it's the film's most galvanizing component, not to mention its clearest reason for being. (No prizes for guessing why the French critics at Cannes lapped this one up.) Cantona's absence is sorely felt when he curiously disappears for entire strands of the narrative. (Chief among these is the extraneous criminal subplot, which wends its way to an incongruously whimsical climax that wholly negates the sense of grim social terror built earlier.)
The selectiveness of the star's presence compounds the disjointed feeling of the film as a whole. Perhaps the title is appropriate; Loach's film spends its entire length trying to catch up to Cantona's super-sized persona, but never finds a way to outpace him.