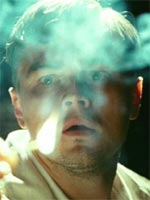 A quiet week round these parts — and everywhere else, for that matter:
• The week's biggest talking point was the unveiling of the first trailer for Scorsese's "Shutter Island." Still mopping the drool from the floor.
• We celebrated the quarter-century (!) anniversary of "Ghostbusters," listing the most quotable lines from that eminently quotable film.
• Our poll of the most influential films of all time finally wrapped … in rather muted fashion. But hey, democracy rules.
• We had the privilege of interviewing the great Francis Ford Coppola.
• This week's Page to Screen examined "Playing the Enemy," the inspiration for Clint Eastwood's upcoming "Invictus."
• In a rare last-minute coup, "The Hangover" stole "Up's" thunder at the box office.
• The 30th anniversary of John Wayne's passing provided the impetus to wallow in The Duke's finest screen moments.
• And finally, yours truly dipped his toe into the murky waters of Oscar predictions.