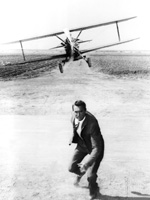 Boy, the Brits sure are down on Hollywood this afternoon.  First and foremost, perhaps as an off-set to that "here come the franchises" piece linked in this morning's round-up, David Thomson writes nearly 1,400 words before coming to his fairly reasoned thesis.  If you get through the painful film school lesson (and really, I love a good talk about Hitchcock and his methods as much as the next guy, but come on), you'll get to the meat of the matter:
And where has this stylishness gone? As I think about the present range of film-makers I can see very few where one might reliably recognise their work simply from the way it looks – Michael Mann, Martin Scorsese, Paul Thomas Anderson. But who could say there has ever been an evident personal style in Steven Soderbergh, Ron Howard, George Clooney, the Coen Bothers, or even George Lucas, Francis Ford Coppola, Oliver Stone, Barry Levinson, Stephen Frears or Milos Forman?

It's not that those people aren't considerable directors. These may rely on modesty (Howard), a sense of overriding efficiency (Levinson), or a wish not to show off (Frears) or an eclecticism that can do all styles (the Coens). It may be a lack of authorial character or ambition (Lucas). But you can't tell their style, in the way you could with Antonioni, Bergman, Godard or Fassbinder.
Probably arguable points all.  And that's if you can get past the fact that somehow a thumbprint is necessary for "personal passion" to be present in the filmmaking.  Watch "Hearts of Darkness" and tell Francis Coppola his films don't convey "personal passion."  But it was a nice excuse to write some pleasant words about Hitch's best film (in my opinion), "North by Northwest," which is playing at BFI as part of the director's retrospective.
And the hits keep coming.  Over at The Independent, Geoffrey Macnabb bemoans the remakes of classic 1970s films and the subtlty they have discarded in favor of pyrotechnics and unnecessary star power.
Here's his case, in a nutshell:
It is understandable that contemporary film-makers want to remake Seventies thrillers. They hanker after the depth of characterisation and the mix of menace and humour that underlay the best films from that decade. The Getaway has already been re-made (with Alec Baldwin and Kim Basinger in 1994) as has Assault on Precinct 13 (in 2005, with Ethan Hawke.) There has long been talk of a Dirty Harry remake. (At one stage, Duayne "The Rock" Johnson was linked with the old Clint Eastwood role of Harry Callahan.)…

In many of the Seventies films, the actors themselves had a battered, shop-worn quality about them that their modern-day equivalents can't match. In Tony Scott's remake of Pelham 123, John Travolta makes a game attempt at portraying a hijacker. As Ryder, he is bearded and grizzled and seems a blue-collar figure (although we later discover that he is a disgraced banker.) Denzel Washington, meanwhile, looks a little more jowly than usual as the subway dispatcher Walter Garber.

Nonetheless, we're always aware that we're watching movie stars slumming it. Travolta and Washington can't shake off their action-hero pasts, even if they do get a little dirty in the New York subway tunnels. Certainly, neither is a patch on Walter Matthau, who plays the grumpy subway cop in the original.
Unlike Thomson, at least Macnabb got to the point before droning on and on.  Read the rest here.  It's hard to argue with both writers (Macnabb especially), though the nose-in-the-air quality of the prose makes it a begruding exercise to do so.