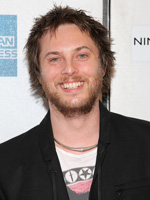 I'm already on the record as being well in the tank for Duncan Jones's "Moon," a shock to the sci-fi cinema system that sports a tour de force portrayal(s) from actor Sam Rockwell.  So with the domestic release right around the corner, it warms my heart to see Jones lighting up the circuit, spreading the good word.
David Poland dedicated one of his lengthy interview segments to the director recently, while Peter Knegt at indieWIRE has written up a lovely discussion with the man.  Here's a taste:
During film school, Jones worked his way into the "low, low budget" music video & commercials business.  After building up a reel, he started shooting short films, and later some bigger commercials. "Eventually [I began] working with a guy called Trevor Beattie, who ran a pretty big advertising agency in the UK," Jones recalled. "He asked me to join his agency as a creative, where I would still get to direct, and I had the time of my life!  After 18 months of working at the agency though, I could feel the itch again, and knew it was time to take a shot at making a feature film.  I felt like I had acquired all the right tools through the many, many years I had spent since film school, and set about making 'Moon,' with my trusty gang of collaborators."…

The "science behind the fiction" came to Jones – who co-wrote the script with Nathan Parker – via a book called "Entering Space," by Robert Zubrin. "This is an amazing piece of non-fiction," he explained, "that goes into detail about how we might colonize the solar system, and do it in a way that is fiscally viable.  One of the early chapters in the book was about going to the Moon to mine Helium-3, an isotope that has the potential to be a 'fuel of the future,' clean burning, and to be used in fusion power stations, when we get them online."
God bless him.  Smart people are actually taking a crack at the genre once again.  Read the rest here.