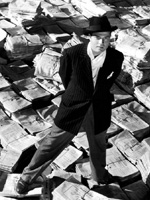 And with that, our poll series comes to a screeching halt.  I've already offered some thoughts on how all of this turned out.  I hope readers unfamiliar with some of the films I've been harping on will take that to heart and at least seek them out.  You owe it to yourself as a film lover, believe you me.
Here is your ranked list.  For background on all of these shenanigans, click here.  I want to thank everyone who participated in the polls and made this a real community effort.
1. "Citizen Kane" (Orson Welles, 1941)
2. "Star Wars" (George Lucas, 1977)
3. "2001: A Space Odyssey" (Stanley Kubrick, 1968)
4. "The Godfather" (Francis Ford Coppola, 1972)
5. "The Wizard of Oz" (Victor Fleming, 1939)
6. "Psycho" (Alfred Hitchcock, 1960)
7. "Jaws" (Steven Spielberg, 1975)
8. "Pulp Fiction" (Quentin Tarantino, 1994)
9. "Snow White and the Seven Dwarfs" (David Hand, 1937)
10. "Toy Story" (John Lasseter, 1995)
Honorable mention: "Annie Hall," "Apocalypse Now," "Battleship Potemkin," "The Birth of a Nation," "Casablanca," "The Godfather Part II," "Gone with the Wind," "The Matrix," "Metropolis" and "Rashomon"
One of these days I'll cook up my own list.  Until then, once again, thanks for participating.