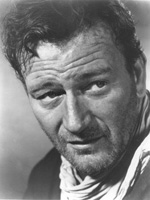 Anne Thompson points us to a pair of John Wayne appreciations today that mark the Pearl anniversary of The Duke's death.  Wayne lost his battle with cancer 30 years ago tomorrow and I have to say, it completely slipped my mind.
Almost a year ago, our own John Foote wrote at length about The Duke and the lack of appreciation for his work as an actor, rather than merely an icon.  I'm keen to agree with many of John's points, and having just completed a thesis on the western genre a few months back, Wayne has been very much on my mind as of late.  But that was a piece about how the genre has evolved far beyond that simplistic, iconic persona into something more nuanced, much as the country has done the same.  Still, an occasion such as tomorrow's anniversary is one for remembering his place and legacy.
Over at Cowboys & Indians magazine, Joe Leydon writes up The Duke with fond remembrances of his legendary roles and even a tip of the hat to his various steeds, never linked to one horse was Wayne.  Here is a section with thoughts from Wayne's family:
Just as important as the film roles for which he is most beloved, Wayne continues to be widely admired as a real-life hero because of the grace-under-pressure courageousness he displayed in his battle against cancer and for his legacy John Wayne Cancer Institute.

Indeed, even Wayne's sons and daughters express grateful surprise at the degree to which their father's legacy continues to survive and thrive.

"Here it is, 30 years since my father passed away, and he still has the popularity, celebrity, and visibility of a living person," Patrick Wayne marvels. "That's a phenomenal feat in the entertainment business. It's something I can't really explain — it's just a fact of life, like he's a force of nature."

"I think that even while he was alive, he had no idea how popular he was and how beloved he was," says daughter Marisa Wayne. "And I think he'd have no clue that, even after being gone 30 years, he'd still be so popular and so beloved. I think that would mean a lot to him."
Roger Ebert, meanwhile, has also penned a love letter to the man, with all the childhood reminiscence you could want from a write-from-the-heart sort such as Ebert.
Here's a taste:
The first time I saw him, he was striding toward me out of the burning Georgia sun, as helicopters landed behind him. His face was tanned a deep brown. He was wearing a combat helmet, an ammo belt, carrying a rifle, had a canteen on his hip, stood six feet four inches. He stuck out his hand and said, "John Wayne." That was not necessary.

John Wayne died 30 years ago on June 11. Stomach cancer. "The Big C," he called it. He had lived for quite a while on one lung, and then the Big C came back. He was near death and he knew it when he walked out on stage at the 1979 Academy Awards to present Best Picture to "The Deer Hunter," a film he wouldn't have made. He looked frail, but he planted himself there and sounded like John Wayne.

John Wayne. When I was a kid, we said it as one word: Johnwayne. Like Marilynmonroe. His name was shorthand for heroism. All of his movies could have been titled "Walking Tall." Yet he wasn't a cruel and violent action hero. He was almost always a man doing his duty. Sometimes he was other than that, and he could be gentle, as in "The Quiet Man," or vulnerable, as in "The Shootist," or lonely and obsessed, as in "The Searchers," or tender with a baby, as in "3 Godfathers."
And from me, a clip from my favorite Wayne performance, in 1949's "Red River":