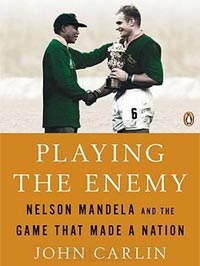 There are few things as antithetical to great drama as an unmitigated hero, a character rendered almost inhuman by unfailing nobleness and valor. In fiction and non-fiction alike, we are inevitably more compelled by the flawed and conflicted of our kind – whether in lurid warts-and-all celebrity biographies or more subtly probing character studies. In film, true-life heroes often make for worthily sanitized Oscar bait (from "Gandhi" to "Milk"), but they rarely provoke great art.
Few figures bear out this truth as handily as Nelson Mandela – a man who is surely the greatest political hero of our time, but who has nonetheless inspired a number of crashingly dull books and films. It's not that the man wants for character or complexity: Mandela's deserved (if artfully self-engineered) modern sainthood belies his early days as a fierce firebrand, but few biographies (and to date, no biopic) have bridged that gap, or made much of an attempt to study the man beneath the myth.
So it comes as no surprise that John Carlin's "Playing the Enemy," which forms the inspiration for Clint Eastwood's recently-titled film "Invictus," does little to change this, casting the first black president of South Africa less as a freestanding character than as a perma-haloed symbol of democratic benevolence. Of course, in this instance, Carlin's intent was not to write another Mandela biography – just as it should be stressed that Eastwood's film isn't really a Mandela biopic.
In narrowing his focus to South Africa's monumental victory in the 1995 Rugby World Cup, the currency of which extended beyond simple sporting patriotism to a kind of symbolic consolidation of the country's international post-apartheid rehabilitation, Carlin's aim is precisely to dehumanise Mandela to an extent. At the book's core is the somewhat tenuous thesis that Mandela almost single-handedly enabled this against-the-odds triumph via an elaborately strategized charm offensive – though Carlin pays sporadic attention to Mandela the man, his chief interest lies in the mid-1990s invention of Mandela the brand, and the influence it could wield.
That is an interesting subject, but Carlin either hasn't the insight or objectivity to run with it, and the result is a decidedly thin and oddly naïve book that wears out its "Mandela won the World Cup" argument in its opening chapter, and subsequently resorts to scattered characterizations of only notionally relevant figures to fill out its meager length. (250 pages, and double-spaced at that.)
In the brevity and inelegant functionality of its prose, the book actually reads a lot like a film treatment, so it's no surprise that Hollywood should have taken to it. Carlin doesn't temper the inspirational elements of either the political or the sporting narrative involved: taken as read, "Playing the Enemy" provides the foundation for an unusual, if unashamedly mainstream, fusion of old-fashioned sports-drama sentiment and equally misty-eyed message-movie politics. There's a reason why "Invictus" is sitting atop many people's Oscar prediction lists.
With that said, it's a far lighter story than I suspect many are expecting. This is the first time in Page to Screen that I've had the opportunity to read the screenplay as well as the source material, so it would be disingenuous of me to ponder the potential routes of the adaptation. I already know, for example, that "Invictus" is only nominally an adaptation of  Carlin's work at all, borrowing his subject matter and heartily rousing tone, but little else. (For starters, the poem that forms the title for Eastwood's film is entirely absent here.)
In fact, only the last third of "Playing the Enemy" covers the events of the World Cup, while the figure of Springbok captain François Pienaar (to be played in the film by Matt Damon) only emerges in his own right over halfway through. The relationship between Mandela and the conservatively raised Afrikaner Pienaar, upon which Carlin places so much metaphorical weight, is actually restricted to a handful of polite, mutually respectful encounters – too anecdotal, therefore, to construct an entire book around. As for the climactic World Cup final, even Carlin is forced to admit that, while atmospherically thrilling, it was, as a sporting encounter, a low-octane affair. (Not one try was scored the entire match.)
The bulk of Carlin's book, rather, fills in the political context around the event. Beginning with Mandela's last few years in prison, where (as Carlin would have you believe) the idea for unifying the country through rugby first came to him, it goes on to offer a potted history of the final years of white rule, a fascinatingly fraught period that encompasses such momentous events as the bloody last stand of right-wing nationalism and the assassination of Chris Hani – none of which appear to be in the film.
This is a sensible choice, given that Carlin himself seems unconvinced of how most of these events link to his central World Cup narrative, but it's unfortunate that this far more dramatically substantial material is still awaiting a film of its own.
As a South African myself (and, for the sake of full disclosure, the son of a Mandela biographer), one who was as captivated by the events of June 1995 as Carlin evidently was, it's possible that my expectations for both book and film have been pitched too high. Academically, Carlin's book is both too big and too small in scope, overegging the significance of a single sports match while oversimplifying the surrounding circumstances. Still, as pop history goes, it seems to have pleased quite a few people – and the film looks likely to do the same.
At the very least, even if the film deifies Mandela in as two-dimensional a fashion as Carlin does, it should provide Morgan Freeman with a solid, charisma-driven bid at Oscar glory. Of greater concern is the book's decidedly shallow, and borderline condescending, characterization of Pienaar, incidentally a law graduate and currently a successful businessman, as a kind of simple, gentle-giant type – I was especially irked when Carlin describes him as a man "for whom big words like 'nation-building' carried little meaning." With such bland raw material, I can only hope Matt Damon manages to convey a little more going on inside the man.
But perhaps the book's greatest failing – and a flaw to which the film is highly susceptible – is just how blinkered and out-of-time it reads when set against the current political landscape of South Africa. 14 years on, the Springboks may once more be the World Cup holders, but much of Mandela's heroic social knitwork has unravelled as the party he brought to power, and even some individuals in Carlin's story, have lapsed into corruption. Carlin makes no mention of this whatsoever, choosing not to spoil his happy ending. I'm sure Hollywood won't mind.