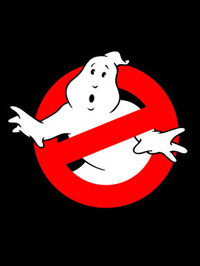 As I briefly noted yesterday, "Ghostbusters" has just celebrated the 25th anniversary of its June 8, 1984 release.  The film went on to make considerable box office dollars and launched the post-SNL careers of Bill Murray and Dan Aykroyd, along with co-stars Harold Ramis and Ernie Hudson, further into the stratosphere.  Okay, well, Hudson's career never really took flight, but still.
The anniversary is certainly not going by unnoticed.  Sony is prepping the Blu-ray release of the film for next week while Atari, Inc. is all set to launch the heavily anticipated cross-platform video game on June 16.  I knew I wanted to do something special for the site, but I just couldn't come up with the right idea.  Then it hit me.
In my view — and this is, of course, quite the disputed opinion — "Ghostbusters" is the most quotable movie of all time.  And it's not just the one-liners that have me howling every time I give the flick another look (which understandably dominate the list below), but it's the thoroughness of the comedy.  Witness, for instance, Egon Spengler's (Harold Ramis) description of the consequences of "crossing the streams," or the way Louis Tully (Rick Moranis) rifles off the particulars of Ted and Annette Fleming's fiscal business at a dreary clients' party.  It is, quite frankly, one of the most ingenious comedy screenplays ever assembled.
So…why not a list of the film's 10 best lines?
This quickly became a painful process.  I ended up with at least a dozen lines that, on another day, might have made the list.  Annie Potts's "I've quit better jobs than this," or Hudson's sincere, "That's a big Twinkie."  I wanted to give a shout-out to "Let's run some red lights" and "Somebody blows their nose and you want to keep it," and especially a personal favorite that hits my funny button more firmly than others: "I looked at the trap, Ray."  Not to mention "Yes it's true, this man has no…," well, you get the picture.  But you have to whittle it down, and so I have.  On to the list.
And Happy Birthday, "Ghosbusters."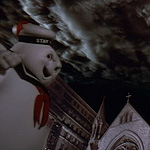 10. "Nobody steps on a church in my town!"
One would think the epic battle with Gozer the Destructor (in the guise of the mammoth Stay Puft Marshmallow Man) at the end of the film would at least slow down the clever zingers in favor of amping up action, suspense and overall spectacle, but no sir.  The lines keep on coming and the 10th entry on our countdown is one of a slew that Bill Murray spits out effortlessly throughout the piece.  You're never short a few chuckles when the actor belts out his disapproval of Gozer's destruction of a sacred chapel en route to wiping out his paranormal police squad.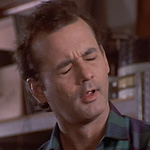 9. "Tell you what.  I'll take Ms. Barrett back to her apartment and check her out…I'll go check out Ms. Barrett's apartment."
One of the things that makes "Ghostbusters" such a fresh and lively piece of comedy is the improvisation and commitment to keeping the best possible lines and takes.  Case in point: this off-the-cuff Freudian slip Murray slides in when Peter Venkman first meets — and clearly begins to fall in love with — the spiritually tormented Dana Barrett (Sigourney Weaver).  As a kid, one must admit, it didn't click (I was three!), but hearing my parents crack up certainly made me curious.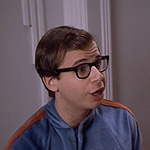 8. "I taped '20 Minute Workout' on my machine and played it back at high speed so it only took 10 minutes.  I got a great workout."
Rick Moranis's first and only appearance on our countdown, as pesky, nosy neighbor Louis Tully, ranks as one of the moments that always stands out as a howler for me.  Here is a character that, if the visual cues of a geeky accountant who works out in high-waters aren't enough for you, will surely have you in the aisles with his numerous quips.  There are plenty of lines to choose from his exhausting exchange with Dana — consider his unorthodox solution to her TV volume issue.  But this one stands out.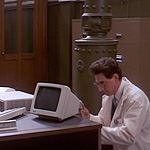 7. "Print is dead."
One of two lines on the countdown that could successfully serve as an appropriate T-shirt or bumper sticker design (the true test of longevity, no?), Harold Ramis's casual, nonchalant but ever-so-overly-sincere delivery is what makes it memorable (and hilarious) for me.  The prescience of the line is also quite intriguing, to say the least.  Some might prefer "I collect spores, molds and fungus," part of the same exchange with Janine Melnitz (Annie Potts) that immediately follows, but I beg to differ.  This line is quintessential Egon, suffering no fools.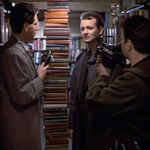 6. "You're right.  No human being would stack books like this."
The ghost-busting trio's first "job" as it were, stalking the hallways of the New York Public Library (the interior of which was filmed at USC's Doheny Library, oddly enough) on the hunt for a "free-floating, full-torso, vaporous apparition," offers plenty of subtle and on-the-nose remarks alike from each of our principal actors.  And some don't even pick up on Dan Aykroyd's, "Listen!  You smell something?"  But when it comes to a spookily assembled column of books amid the eerie rubble of a poor librarian's close encounter in the film's introductory scene, Murray offers this quip that just cracks me up every time.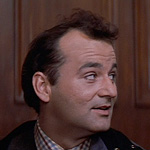 5. "Back off, man.  I'm a scientist."
So we come to T-shirt/bumper sticker #2, and chronologically speaking, the first zinger of the film to pop up on our countdown.  The line, spoken by Murray, comes after an unexpected query regarding the menstruation cycle of the librarian mentioned in entry #6 and is a favorite for many fans of the film.  I like it for the way it feeds into Murray's character.  Described by his Columbia Dean later as someone who views science as a "dodge," he will indeed lean on those numerous degrees if it means a little more respect and esteem.  Or, at the very least, free reign to have his fun.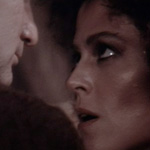 4. "Take me now, subcreature."
I always forget this remark by a Gatekeeper-possessed Dana Barrett until I'm watching the film again.  Without fail, it cracks me up every time.  When Peter Venkman shows up for his date with the Ghostbusters' first client, he can tell from the start something's not right.  Dana's apartment is a wreck, ooze is dripping from everything and she has clearly been taken by some malevolent force.  "There is no Dana, only Zuul," is right around the corner, but when Weaver casually drops in our #4 line in the way of seduction, it strikes just the right balance.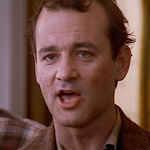 3. "Human sacrifice, dogs and cats living together…mass hysteria!"
The top three lines on our countdown are, for me, the top tier of "Ghostbusters" hilarity.  And the first in that echelon goes to the closing quip of a rant in the mayor's office following the EPA's shut-down of the group's protection grid, which houses all of the incarcerated souls they've "busted" throughout the film.  As Ray, Egon and Winston begin describing the on-coming end of days to His Honor (a pitch-perfect David Margulies), Murray chimes in with this knee-slapper.  It might be too easy a choice for some but I think it's classic "Ghostbusters."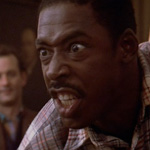 2. "Since I've joined these men, I have seen shit that'll turn you white!"
Earlier on in the very same scene, Ernie Hudson strolls up to the mayor and gives his blue-collar, no nonsense take on the proceedings and delivers this multi-layered line that is probably the funniest moment of the film for me.  I say multi-layered because it both plays with race and has a fortunate cut-away to actor John Ring (as the New York Fire Commissioner) that lifts the material way, way off the page.  It's also, let's face, a perfectly delivered line.  With added emphasis on "shit" and "white," it has a rhythm that carries the humor across splendidly.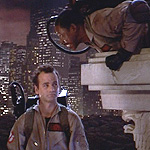 1. "Ray, when someone asks you if you're a god you say, 'Yes!'"
It is, to my mind, one of the greatest movie lines ever.  And it was the first line that ever cracked me up for its cleverness when I was a kid.  Ernie Hudson takes the top two spots on my list as Winston Zeddemore, regular Joe Schmoe who comes to the Ghostbusters looking for a job.  "If there's a steady paycheck in it, I'll believe anything you say," he says in an earlier scene.  His list-topper, however, comes during the film's climax after Gozer, in its "nimble little minx" form, asks of Ray, "Are you a god?"  Always the honest simpleton, Ray responds, "No."  Lightning bolts coursing from its fingertips, Gozer screams, "Then DIE," leaving Winston to deliver the goods.  Comedy gold.
We covered most of them, but what are your favorite lines from "Ghostbusters?"  When did you first see the film?  Do you love it?  Hate it?  Cut loose in the comments below!