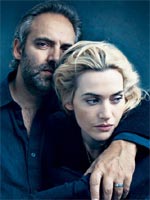 Perhaps it's telling that this recent Times interview with Sam Mendes mentions his latest film "Away We Go" in a single sentence, while focusing rather more attention on his upcoming theatrical double-bill, directing Chekhov's "The Cherry Orchard" and Shakespeare's "The Winter's Tale" for Kevin Spacey's Old Vic in London. I have yet to see the thus-far coolly received new film (I'll catch up with it in Edinburgh next week), but I've booked my theater tickets — and I know which evening I'm more excited about.
Be that as it may, it goes to demonstrate just what a busy guy he is at the moment: not many people can claim to have unveiled two major feature films and a weighty stage project in a six-month period. Not content with that, he also finds time to play cricket for a county team — there's something I didn't know.
As the interview makes clear, Mendes' sudden spurt of creativity is a sort of compensation for four rather quiet years which he devoted to raising his young family. I hope he maintains the newfound energy level, given the variable nature of his filmography thus far — for a gifted filmmaker, inconsistency is best accompanied by prolificacy. (Ask Woody Allen or Clint Eastwood.)
The interview also contains some interesting thoughts on the relative difficulty (or otherwise) of directing his wife to harrowing effect in "Revolutionary Road," and also raises the possibility of them collaborating again, this time time on stage:
So will Mendes direct her again? "We'd like that, but what's right for her isn't necessarily right for me and vice versa. The worst thing you can do is bend yourself into a pretzel for another person because you feel you are doing them a favour." Recently, they discussed her return to the stage, maybe in Pinter's Betrayal: "She looked at it and said, 'It's a masterpiece but a play about infidelity and I've just done Little Children and Revolutionary Road, movies about middle-class marriages in crisis'. She didn't even get to the end of the sentence before I said, 'No, do something else'." That "something else" remains undecided.
Yeah, as comfortable a fit as "Betrayal" sounds for both talents, I'm glad they've agreed to cast their net a bit wider. As someone who thinks Winslet has always done her best work in comedy — Nancy Meyers-directed ones excepted, of course — I'd be interested to see him steer her in that direction. When he has time, of course.