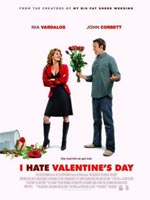 Has Nia Vardalos cloned herself? That's a pretty terrifying thought, granted, but don't shudder just yet, because my next statement is even more troubling: Vardalos has another movie out next month.
Yes, fresh from the roaring success of "My Life in Ruins," Hollywood's favorite recycler of Hellenic schtick is striking while the iron's, uh, hot with a romantic comedy titled "I Hate Valentine's Day." IFC are the fortunate distributors; I'd say riding the coattails of Fox Searchlight's Vardalos project must have seemed like a good idea at the time, but, well, how could it have done?
Unlike "My Life in Ruins," this one is written and directed by the star herself, so Vardalos' numerous fans can rejoice in the fact that her talent will be unbridled this time. And look! John Corbett is back for the ride, to rekindle that old Greek magic. I bet July 3 suddenly seems too long to wait, huh?
Why had I not heard about this film until today? Why was I not warned? (Hat tip to Stale Popcorn for breaking the news to me gently.) And why, given the title of the film, could they not at least wait until Valentine's Day 2010 to give us time to recover?
Remember when it looked like a very real possibility that Nia Vardalos could win a Best Original Screenplay Oscar? And then when, in a rare and frankly astonishing gesture of common sense and good taste, they went for Pedro Almodovar instead? It's days like this when I feel inspired to write a personal thank-you note to every member of the Academy.