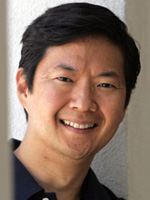 I think it's safe to assume that if you saw "The Hangover" this weekend (tell us what you thought), you caught Ken Jeong's performance as a Korean Vegas crime lord.  Jeong has been on the rise ever since his first big screen cameo in Judd Apatow's "Knocked Up" two years ago, but according to this Chris Lee profile in the Los Angeles Times, there's an unlikely backstory to all of this.  "Before a casting coup landed Jeong an enviable spot on the batting order for some of movie comedy's heaviest hitters…[his] day job didn't involve making people laugh at all," Lee writes.  "Unless prescribing pain medication for, say, an angry patient with a herniated disc is your idea of funny."
North Carolina native Jeong was practicing internal medicine at Kaiser in Woodland Hills before Hollywood came knocking.  Comedy, it turns out, was just a hobby to keep him loose and sane away from the job.  Now he's landing the most laughs in what will surely be the summer's biggest comedy:
"I practiced internal medicine at Kaiser in Woodland Hills," Jeong said over lunch near his home in Calabasas. "Comedy was a hobby. It was like my golf. I had another life."
According to "Hangover" director Phillips, Jeong's defining characteristic is his "fearlessness" — something put on prominent display in the bawdy R-rated comedy…

"He just comes in and crushes those little parts in films," Phillips said. "That's what you look for: a guy who can come in and just destroy it. He's crazy!"

It's hardly the career path Jeong, 39, set out for himself. The North Carolina-born Korean American attended Duke University (major: pre-med, with a minor in drama) then attained his MD from the University of North Carolina. It was around that time he began going to open-mike nights at local bars and delivering his earliest stand-up routines.

"It was just goofy Asian stuff," Jeong recalled. "Definitely high energy, but I was too afraid to say I was in medicine. I'm just an educated idiot: I took that as my persona."

Moving to New Orleans for his medical residency, Jeong didn't let a 90-hour workweek keep him from the comedy clubs. "It was grueling, but I had a work-hard, play-hard mentality," he said. "Everyone has something to keep them sane outside medicine. Mine was comedy."
This is the first I'm hearing of Will Ferrell's used car comedy "The Goods: Live Hard, Sell Hard," by the way.  Make it stop.  Anyway, check out the rest at the LA Times.  And a taste of Jeong's stand-up after the jump.