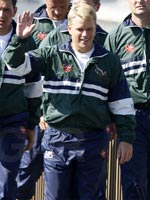 Slipped my mind to do this on Friday, but better late…
• We broke the news that Clint Eastwood's upcoming Mandela film finally has a title: "Invictus." (And if you're wondering what it means, we explain that too.)
• And with that, much "Invictus" talk ensued, as we learned that Eastwood directed the film at Morgan Freeman's request, and that it's going up against "The Lovely Bones" in December.
• Speaking of "The Lovely Bones," this week's edition of Page to Screen put Alice Sebold's bestselling novel under scrutiny.
• Our slightly disappointing (to some, at least) poll of cinema's most influential films entered its final stage.
• With the news of a "Total Recall" remake the final straw, we got on Hollywood's case for being so apparently allergic to original material.
• This week's list counted down the all-time greatest champs in the Best Foreign Language Film category. (Hint: The just-released "Departures" ain't on it.)
• We considered the wealth of female filmmakers in the mix for awards consideration this year.
• A bit of respect for the great Elia Kazan.
• "Up" stormed the box office, as we all knew it would.
• Finally, in sadder, and much less expected, news, we said goodbye to actor David Carradine.