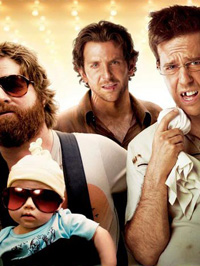 (6/8 UPDATE: Variety is reporting this morning that, in a rare occurrence, "The Hangover" topped "Up" once actual numbers rolled in.  "Final figures will show that 'Hangover' grossed $45 million from 3,269 runs," Pamela McClintock writes. "'Up' should finish at $44.3 million to $44.4 million from 3,818 theaters.)
"Up" has now joined "Paul Blart: Mall Cop" and "Madea Goes to Jail" as the only 2009 releases to spend more than one week at the top of the box office. (EDITOR'S NOTE: Strike that.  See update above.) A slim drop of 35% led to a weekend gross of $44.2 million and kept Carl Fredrickson floating above the competition en route to what surely will be one of the highest grossing totals of the summer. With $137 million in the bank already, it is pacing ahead of the 10-day tallies of "WALL-E," "Ratatouille" and "Cars." Anybody willing to bet on "Toy Story 3" breaking Pixar's hot streak next summer? Didn't think so.
Coming in a close second is "The Hangover." Starring a bunch of nobodies (relatively speaking) and from a director five years removed from his last hit, there's no reason this should have made $43.3 million this weekend. But it did and the only explanation is that audiences loved it. Test screenings started the word of mouth and it rolled all through the marketing campaign and what many of us saw coming as a possible sleeper hit of the summer has turned into something else entirely: a bona fide blockbuster. Even if it fails to double its debut (doubtful with word of mouth so good), it would still be a massive success for Warner Bros. No word yet on how much of the gross came from people so hungover that they forgot they already paid to see the movie the previous night as well.
Third place went to "Land of the Lost," an unmitigated disaster. $19.5 million is what Universal would have hoped for in one day when they greenlit this sucker with a budget north of $100 million. Will Ferrell and dinosaurs seem like a smart combo to me but the trailers and buzz for this one labeled it a stinker long ago and nobody could decipher whether it was for kids or young adults. Director Brad Silberling has now sunk two potential franchise starters in a row (with "Lemony Snicket" being the other) and has to be sweating his career right now. And Danny McBride deserves better.
"Drag Me to Hell" fell 54% and it's a goner. $35-$40 million at the box office is a disappointment no matter how you slice it and Sam Raimi will be glad he accepted the offer to direct "Spider-Man 4." Cheer up Sam. This film will always have the USA Network to play it at midnight every month until the end of time.
Hey, remember Nia Vardalos? Wasn't she so charmingly Greek? Want to see her do more Greek bits? No? Oh. Shit, we already put out "My Life in Ruins." Guess we'll have to settle for $3.2 million and all this promotional baklava that nobody showed up to eat.
In limited release, "Away We Go" got off to a good start with $143,000 from four screens, although the reviews don't seem to support any notions of a future with Oscar.
I meant to check out a couple movies this week but wound up only seeing the first 30 minutes of "The Brothers Bloom." The fact that it was only the first 30 minutes should clue you in to how I felt about that film.
Next week would be the coolest weekend ever if it was the 1990s and I loved People Magazine. Denzel Washington, Eddie Murphy and John Travolta all hit screens and try to steal the weekend crown away from Pixar. "The Taking of Pelham 123" has that old-school action charm and some good marketing so I think it can go the distance with $35 million or so.
Eddie Murphy has a wildly inconsistent recent career but his milquetoast-looking family films do the best business.  "Imagine That" is one of those but "Meet Dave" and "Norbit" are still leaving a bad taste in the mouth of any Eddie fans so I think $16 million might be the limit here.
What do you guys think?  Here are the weekend's domestic grossers, courtesy of Exhibitor Relations: