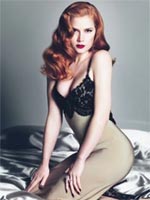 As I've mentioned before, David Thomson's trademark star profiles can exert a kind of car-crash fascination these days, the result of a once invaluable critic giving in to his shallowest impulses. Flashes of insight still show through on occasion, but the navel-gazing (and often inappropriate fawning) of his pieces can be hard to take.
One of the things that has always distinguished Thomson's analysis of actors is his preoccupation with physicality. At his best, this manifests itself as artful articulation of the intangibles of screen presence. At his worst, this tilts into 'dirty old man' territory, as in his repulsive "biography" of Nicole Kidman, in which he waxes lyrical over her breasts and pubic hair.
This week, the object of his physical scrutiny is Amy Adams, and this time, his gaze is a lot less admiring:
If Adams is a star now, she had better make the most of it. This may sound harsh, but she has the kind of look that could shift from trifle to pudding by the time she is 40. You may rise up in wrath and say that a critic is not supposed to make personal remarks about an actor's appearance – but if you really take away that appearance, there is precious little to talk about in acting.

Ms Adams is where she is now because of a kind of passing prettiness that carries no threat. By contrast, Reese Witherspoon, Emily Blunt and Natalie Portman all carry the promise of intelligence, character and something to say that will trouble many men and the kind of society that relishes passive, pretty girls. That a movie career can still be made out of meek sweetness is a measure of how little progress we have made.
This extract neatly outlines the strengths and weaknesses of latter-day Thomson: there's actually a taste of an intelligent, if provocative, critique here of audience-star relationships and Hollywood's own gender reservations, but the bloody-minded perversity of his "appearance is all" argument rather undoes his good work.
Anyway, in decrying Adams' predilection for wide-eyed naif roles, Thomson joins an increasingly loud chorus, though he does her (and his argument) a disservice by writing off the actress's personal best, her lonely Southern chatterbox Ashley in "Junebug," in a single sentence. It increasingly annoys me how, in the wake of Adams' subsequent roles, critics now tend to paint this extraordinary characterisation with the same brush as they do "Enchanted" or even "Doubt."
Ashley may be sweet-natured, but she's a considerably complex creation, masking years of disappointment and diminished self-esteem behind an effortfully sunny facade. Much like Sally Hawkins' Poppy in last year's "Happy-Go-Lucky," Ashley uses good cheer as a coping mechanism. That's why critics and awards voters flipped for the performance back in 2005, and that's why it remains the best showcase Adams has had to date.
At this stage, a similarly layered reworking of her wholesome screen persona would probably be too subtle a shift to silence the doubters. To do that, she'd probably need to do a complete 180 in terms of role, project and target audience — something akin to what Meg Ryan attempted in "In the Cut." (Not that it helped her any, fascinating performance notwithstanding.)
But this is where Thomson's point rings true: Hollywood doesn't always reward female superstars for adventurousness. The media backlash against Nicole Kidman in recent years is plain evidence of that. Julia Roberts is another case in point: adored and rewarded for years for playing variations of her plucky girl-next-door chutzpah, she churns out the coldest, sexiest and, ultimately, finest work of her career in 2004's "Closer" … and nobody seemed to care. As an actress, Amy Adams should be pushing the boat out further than the likes of "Julie & Julia"; as a star, she's probably fine right where is.