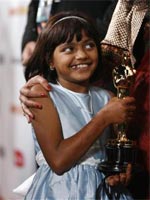 Make no mistake, I found 9 year-old Rubina Ali as adorable in "Slumdog Millionaire" as everyone else did. I also found her a rather more expressive actress than her elder incarnation, Freida Pinto. And I was as sad as anyone to hear of her home, along with those of many others, being bulldozed by the Indian government.
But with all that said, I can't summon much enthusiasm for the idea of her impending autobiography, even if it is for charity:
Rubina Ali, one of the child stars of the Oscar-winning film Slumdog Millionaire, is to publish her life story.

Madeline Toy at Transworld Publishers said on Friday that "Slumgirl Dreaming: My Journey to the Stars" will be published in Britain in mid-July. She said both Transworld Publishers and Random House Children's Books will publish the book at the same time. Both companies are units of Random House Group Ltd. Toy said all royalties will go to Rubina and Médecins du Monde, a French medical aid organisation.
I tend to be of the mind that people should have a bit more life under their belt before they commit it to paper. (Or rather, have some anonymous hack do so for them.) I get irked when 20-somethings publish their life stories (as is de rigeur for British celebs, be they footballers or former "Big Brother" contestants), but this is a whole new level of bizarre.
Can the film adaptation be far away? Can the Academy resist the appeal of "Slumdog" redux, now with added biopic power? How meta would that be?