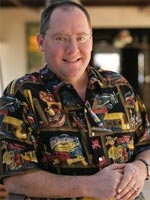 Total Film has done a notably thorough interview with John Lasseter, which takes the form of a chronological tour through the animation maven and "Toy Story" director's career. It's a fascinating read, particularly if you, like me, are not entirely au fait with the early history of Pixar and computer animation. I hadn't realized how the dots all joined between Lasseter and such diverse figures as Steve Jobs, Tim Burton, George Lucas and Chris Wedge. Small world, and all that.
The overarching narrative that emerges from the interview is Lasseter's complicated history with Disney Animation Studios. He may run the place now, but getting fired by them decades ago has clearly left its mark. He's too genial a guy to remain bitter, but he's still frank about how unpleasant his early Disney days were:
When I got there I found it was led by people who felt threatened by young talent. I kept suggesting stuff but I remember being told by one of them, 'Look we don't want to hear your ideas, just do what you're told. There are plenty of guys who'd be happy to take your place.'

In two sentences some guy made me not care about the studio; he made me not care about the project I was working on. And I thought to myself, 'One day if ever I'm in charge I'm never going to say to a young person what that guy just said to me'. But it didn't stop me, I just kept trying to push and make things better.

When we showed the test and gave a pitch (for "The Brave Little Toaster"), the head of the film studio just said, 'The only reason to produce this by computer is if it makes it cheaper and faster.'And he walked out. Within five minutes I get a call: 'Your project is incomplete and your employment with the Disney Animation Studios is now terminated.'
How things change. We also learn that Andrew Stanton ("WALL-E," "Finding Nemo") was rejected by Disney no fewer than four times early on in his career — it would appear that the company didn't have much of an nose for talent back in the 80s.
Lots of other nice nuggets in the interview, including why Pixar consciously avoids the snarky humor of rival animation outfits (they tried it in "Toy Story" with disastrous results, apparently), how the release of "Antz" in 1998 was "teeth-gnashingly annoying" and what to expect from "Toy Story 3." Also, who knew that the widely forgotten 1963 Disney effort "The Sword in the Stone" was the film that spurred Lasseter's animation career? (And I thought I was the only one who was obsessed with that movie as a kid.) Read the whole interview here.