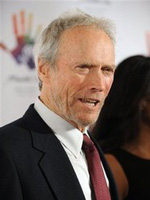 It'll be Clint Eastwood in one corner, Peter Jackson in the other for round two this Oscar season.
Tuesday we broke the news that Clint Eastwood's untitled Nelson Mandela/1995 World Cup film would be titled "Invictus."  Now comes word form Variety that the film will be released December 11, the same day as Jackson's "The Lovely Bones" (featured this week in Guy's Page to Screen column).
"Invictus" follows Mandela's attempt to use the 1995 Rugby World Cup to heal his nation following his release from prison, the fall of apartheid and his election as president of South Africa…

Eastwood drew the title of the film from a short poem often recited by Mandela. "Invictus," penned by William Ernest Henley, speaks to the will to survive in the face of adversity.

"Invictus" isn't the first picture to claim Dec. 11. Also opening that weekend is Peter Jackson's "The Lovely Bones," from Paramount and DreamWorks.

The Dec. 11 release puts "Invictus" and "Lovely Bones" in the heart of awards season.
Also note the utter lack of sourcing our story from two days ago. Nothing new there, but you roll with the punches in this racket.