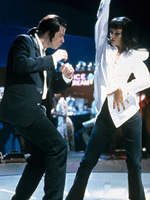 And we come to the third and final round, which will decide the ranking order of your chosen 10 most influential films of all time.  For background on this series, go here.
Unfortunately, a number of our readers are apparently unaware of the influence films like "Battleship Potemkin," "The Birth of a Nation" and "Metropolis" have had on the film medium.  Both were able to squeeze out enough votes in the early rounds to make it through to last week's survey, but they join "Annie Hall," "Apocalypse Now," "Casablanca," "The Godfather Part II," "Gone with the Wind," "The Matrix" and "Rashomon" on the list of runners-up to your definitive collective.  And if we're being honest, a number of those films shouldn't have even made it through to last week's poll.
I'd be lying if I didn't say I was a bit disappointed by the way this series has turned out.  I don't want to sound like I'm chiding the readership or anything, but it did become painfully honest rather quickly that the poll was being viewed as a popularity contest more than anything else.  At the same time, if you've only seen the popular titles, you can't be expected to blindly know the impact of films like "Potemkin" and "Metropolis."
So allow me to humbly suggest that if you've never seen a number of the films that appeared over the last few weeks (most certainly the aforementioned trio, not to mention other films that crashed and burned, like "Easy Rider," "Persona" and "Man with the Movie Camera," among others) do yourself a favor and seek them out.  You truthfully cannot consider yourself a fan of the cinema if you aren't familiar with how it got to this point.  Go back through the polls in our archive for refreshers.
Anyway, enough lecturing.  As mentioned, this week's final query will establish the ranking order of the 10 films you see in the left sidebar.  I figure there's no better way to decide than to simply ask everyone for their pick of the most influential of the litter.  For some of us, the answer is obvious.  But I'm counting on some well-reasoned personal arguments to sway the needle for other titles and leave us with a nice and definitive 1-10.
This poll will close Wednesday, June 10 and, if we get enough responses, will feature your own thoughts on the entries.  So first come, first served, if you want to write a 100 word entry for one of the 10 films, post a comment here with the film title and an email address and we'll set you up.