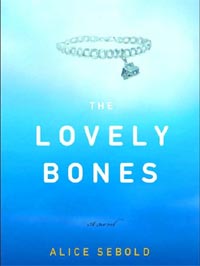 Remarkable cinema can be born of lesser literary source material, and vice versa. An arresting narrative hook can be enough for an adept screenwriter and filmmaker to fashion into an evocative cinematic vision; the artistry (or otherwise) of the prose is of secondary importance.
Sterling cast and credentials aside, it is for this reason that I hold out much hope for Peter Jackson's adaptation of Alice Sebold's "The Lovely Bones," a wildly popular novel that is nonetheless more exciting in its conceptualization than in its clunky execution. The novel offers bold visual and structural possibilities, not to mention a strong emotional charge, for Jackson and his collaborators to draw upon, but is weighed down by a maudlin, sometimes lurid literary sensibility that could benefit from the more interpretive route of visual storytelling.
The story, in short, requires a subtler hand than Sebold's to move into the realm of art; whether Peter Jackson, hardly the gentlest of directors recently, is the man for the job is something I'm intrigued to see. The Jackson of "Heavenly Creatures" could tease out the candid, often mordantly humorous tone that occasionally surfaces in the novel to good effect. The Jackson of "King Kong" risks drowning the delicate core narrative in effects-heavy supernatural dazzle, not unlike how Sebold ultimately smothers her story in spiritual bathos in an utterly unhinged final act. As a match of filmmaker and source material, it's a double-or-nothing proposition.
Perhaps that sounds unduly harsh on a debut fiction effort that has redeeming features beyond its overriding stylistic stickiness. Its essential gimmick – as you no doubt know, it's narrated by the spirit of Susie Salmon, a murdered 14 year-old girl, observing how her family members variously handle the crisis on earth – is distinctive and immediate, and should translate well to film with judicious use of voiceover.
Beyond the morbid intrigue of its premise, however, it's easy to see why "The Lovely Bones" resonated with so many readers: published in 2002, it's a sincerely felt examination of grief and survival within the American family that clearly struck a chord with a public still processing the post-9/11 sense of collective loss, even if the novel is set in the 1970's. (For no apparent reason, it must be said; any period context or detail is notably thin on the ground.)
As such, the novel is as sporadically moving as any depiction of parental grief, and benefits from Sebold's decision to expand her focus to the larger community, with Susie's gaze darting between family,  friends, officials and even tangential acquaintances affected by the tragedy.
It more of an ensemble piece than the premise suggests, making the novel's earthbound action more varied and compelling than Susie's own afterlife experiences. Sebold offers a promising conception of heaven as a piecemeal environment, built by individuals from occasionally overlapping earthly locations, but rapidly loses interest in the idea. Susie's celestial friends all but disappear after the opening act, giving her little to do but observe the living. For all Jackson's affinity for the fantastical, I think the film would benefit from taking a similar lead early on, recognizing that earth, not heaven, is where the meat of this story lies.
It's therefore hard to know what to expect from the film's characterization of Susie, despite the Oscar whispers surrounding Saoirse Ronan's performance. As the sole narrator of the proceedings, she's unquestionably the novel's emotional anchor, but she's more presence than character, guiding our perspective of events rather than activating scenes.
She's an engaging companion, with a dry teenage wit that disappointingly lessens as the novel progresses, whether intentionally or not – one of Sebold's more interesting literary conceits is that Susie comes of age even in the afterlife, albeit not to very interesting effect. It's a subtle brief for a young actress, and Ronan has already proved she has the requisite intelligence to pull off such a feat, but I suspect it might be a more passive portrait than what many are expecting.
Other characters are afforded flashier emotional fireworks. As Susie's mother Abigail, Rachel Weisz has the strongest role on offer, largely because it subverts a predictably sympathetic arc. With her daughter's death breaking the seal on a family she secretly never really wanted, Abigail's choice of infidelity and escape as a healing route renders her a bravely unlikable character, though no less empathic for it. Weisz, a quiet thesp who can be at once chilly and relatable, is spot-on casting here; if I were to earmark any one member of the film's cast for awards attention, it would be her.
As Susie's father Jack, Mark Wahlberg is arguably the novel's most substantively developed and structurally essential character, the narrative's key turning points hinging on his psychological ups and downs. His emotional throughline is the most predictable in the novel – progressing from bluff family man to emotionally crippled dependant – but it's an affecting one all the same, and it'll be interesting to see how the counter-intuitive casting of Wahlberg in a role that calls for considerable vulnerability pays off.
Prospects for other roles are dependent on how Jackson and his co-writers have fleshed out the novel's often anaemic secondary characters. Stanley Tucci should have some disquieting moments as Susie's murderer, but Sebold never really gets under the skin of the monster, offering a supposedly poignant backstory that is neither unexpected nor particularly illuminating. Meanwhile, the character of Susie's boozy but compassionate grandmother gives Susan Sarandon scope for warmth but not much depth.
Opportunities for the cast aside, I'm not sure the novel represents as easy a get for Oscar attention as many are assuming. There's a strong film to be made out of this, one that builds upon Sebold's eerie blend of everyday detail and eerie otherness, while resisting her irksome urge to protect the reader by tying every loose end with a therapeutic bow. That film could well be too stark and too bleak for the Academy's liking. Still, even if Team Jackson retain the novel's softer edges, it remains – with its tricky balance of domestic drama, existential fantasy and Hitchcockian suspense – a high-wire venture.