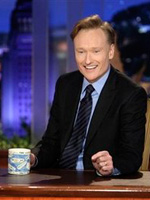 In his first shot at hosting "The Tonight Show," I think it's safe to say Conan O'Brien has tamed things down from his "Late Night" antics of old.
Tapping comedian Will Ferrell and musical guest Pearl Jam as introductory guests might be seen as indication of a "hipper" or younger direction, but came off as rather safe in hindsight.  The crowd got a "string dance" routine but only briefly and as merely a wink and a nudge.  And the overall atmosphere of the show was somewhat stiff, O'Brien appearing nervous to maintain a straight man's routine throughout while seemingly longing for his 12:30 element.
Of course, I'm not criticizing.  It will take O'Brien some time to warm to the gig and, perhaps, his new audience to him.  But what worked really worked.
The cold open was probably the obvious play, but the commitment to a cross-country, Forrest-Gump-like sprint from Manhattan to Universal City was full, spirited and lots of fun.  The studio tram tour bit felt a little too old Conan for the time slot and might have been better saved for later down the line, but it'd be a hoot if "Cir-cle!  Cir-cle!" became an unintended tradition with studio audiences.  And that stage is something to behold.  Absolutely gorgeous.
You can check out the cold open below or at the new "Tonight Show" website (with other goodies, of course).
Announcer Andy Richter will hopefully not take on the irritating demeanor of Steve Higgins over on Jimmy Fallon's show.  The role is a bit confused at the moment but I'm sure it'll fill out.  It's also a bit strange to see The Max Weinberg Seven's (here, Max Weinberg and The Tonight Show Band) opening ditty merely transplanted to the new digs.  Personally speaking, I don't want the old show.  I want the best of the old show with the maturity of the flagship, and I think if that balance is struk, O'Brien could be the show's most successful front man ever.  But we'll see.
Over on "The Late Show with David Letterman," things were decidedly old school.  Bill Cosby came on to deliver one of his age-old sit-down comic routines and pitch his current tour.  Paula Abdul was scheduled to perform but Melody Gardot ended up filling in.  Abdul was moved to Wednesday.  Not sure what the story is there.
Anyway, O'Brien's first show was a rousing success.  Early ratings reports show that more people tuned into O'Brien's "Tonight Show" than ABC's "Nightline" and CBS's "The Late Show with David Letterman" combined.
Tonight's guest include Tom Hanks (which, in my opinion, might have been a better pick for first-time guest) and Green Day.
What did you think of Conan's first stab at NBC's flagship show?  Have your say in the comments section below!