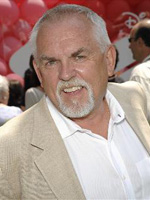 I'm glad someone finally got around to doing this story.  In the pages of USA Today this week, Susan Wloszczyna has written up a nice little feature on actor John Ratzenberger, who has provided voice talent to every Pixar film since the studio's first ground-breaking effort "Toy Story" back in 1995.  Here's a taste:
The folks at Pixar, which has gone on to even greater success with such Oscar-winning titles as The Incredibles and WALL·E, decided to adopt the actor as their good-luck charm. And it seems to have worked. The tradition continues this summer with Ratzenberger as a kindly construction worker in Up, the studio's 10th film and now No. 1 at the box office.

Did he ever think being a pushy plaything would lead to long-term employment? "No, but I didn't think that the first time I sat at the bar on Cheers, either," Ratzenberger says. "People ask me, 'What is the secret to Pixar's success?' About 80% of what comes out of Hollywood is angry and cynical, whereas everything from Pixar is heartfelt and hopeful. That is who these people are. That is their world view."

He has been the studio's pet actor for so long, he is no longer sure why the animators decided to keep on hiring him. "I'm just happy they do."
I also like this aside with thoughts from "Up" director Pete Docter:
Pete Docter, director of Monsters, Inc. and Up, says Ratzenberger's vocal ability also has something to do with it. "He's the ultimate Pixar character actor," he says. "He's someone so clear, I know that guy after only two lines of dialogue. Having him in every film is like our Hitchcock cameo."
What's your favorite Ratzenberger/Pixar role?  I might have to go with "WALL-E," actually.