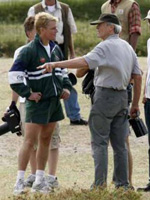 It's interesting how news bites trickle down.  A passing comment from our own Chad Hartigan over at Twitter stirred the stagnant buzz nest of Clint Eastwood's still-filming Nelson Mandela project for me, so I did a little digging.
Anyone who follows the film awards season is well aware of the project, which will star Morgan Freeman as the esteemed former president of South Africa and Matt Damon as Francois Pienaar, captain of the South Africa Springboks rugby union team that won an unlikely World Cup trophy in 1995 as the nation was in the midst of post-Apartheid transition.  The story was committed to print in John Carlin's book "Playing the Enemy" in 2008.  Eastwood mentioned at the Santa Barbara Film Festival in January that Carlin's book covered similar territory to his as-of-then untitled film but didn't mention whether Anthony Peckham's screenplay was a proper adaptation of the volume.
But back to that Twitter message.  It read, quite simply, "Eastwood's film called Invictus."  So I called Malpaso, Eastwood's production company.  I asked if this was indeed the case and was told, swiftly, "that's still all in the works."  No confirmation was forthcoming.  Fair enough.  I got Chad on the phone and tracked down his source, which was an internal industry email that read: "Please note, Clint Eastwood's untitled Nelson Mandela film is now titled 'Invictus.'"  A quick email to his source at Warner Bros. and I got the confirmation.  We have a title.  But what does it mean?  Read on to find out.
"Invictus" (meaning "Invincible" in Latin) was a short poem written by William Earnest Henley and published in 1875.  What's the connection to Mandela?  It seems the poem was a great source of inspiration for the freedom fighter.  The impact of its verses is probably best summed up by this passage from a 2007 Reader's Digest interview with Mandela:
RD: When you were in prison all those long years on Robben Island and elsewhere, was there something that came back to you, something you had either in your mind, a message or passage from a book, a song, something that helped sustain you and keep up your spirits?

Mandela: There was a poem by an English poet, W.E. Henley, called "Invictus." The last lines go: "It matters not how straight the gate, How charged with punishments the scroll, I am the master of my fate: I am the captain of my soul."
Additionally, from the official Nobel Prize website, there is this aside, amid a passage detailing the impact of literary heritage on Mandela's life:
At Robben Island, Mandela recited this poem and taught other prisoners these defiant lines; reading such words "puts life in you", Mandela says.
It makes for a stirring if, for those who don't want to research it (i.e., just about everyone), head-scratching title.  But more intriguing might be the fact that Sen. John McCain has also pointed to it for a source of inspiration and, to an extent, perhaps, faith.  When you read those final verses, you can certainly sense how they might galvanize someone who's been taken as a prisoner of war.
From a William Kristol op-ed in the pages of The New York Times back in January of 2008:
McCain comes from a generation that, in its youth, was made to memorize poetry. And when I was able to get in touch with him Sunday in Florida, he told me that one of the poems he had memorized in school was William Ernest Henley's "Invictus" (1875). McCain actually recited snatches of the poem in our cellphone conversation — not something he does every day on the campaign trail, he pointed out.
Henley, Kristol notes, wrote the piece following a foot amputation due to tubercular infection. "He lived until age 53," Kristol writes, "apparently unbow'd and unafraid, a productive poet, critic and editor. (The one-legged Henley also served as an inspiration for his close friend Robert Louis Stevenson's "Treasure Island" character Long John Silver.)"
I point out the McCain connection because of Eastwood's presumed support of the Republican Presidential nominee in the recent election.  They even got together on the campaign trail when McCain made a stop outside of Detroit.  Eastwood was filming "Gran Torino" in the area at the time.
Another bizarre note that reader M Mc points out is that the poem's final verse served as Oklahoma City bomber Timothy McVeigh's last words.  But regardless of all of that, the film finally has a title (as long as WB is okay with the inevitable confusion it will likely induce in the public, as well as the McVeigh stigma).  So some of you (you know who you are) can stop complaining about the fact that I have the gall to list an untitled film throughout my Oscar predictions! (I kid.)
Here is the full text of Henley's "Invictus":
Out of the night that covers me,
Black as the pit from pole to pole,
I thank whatever gods may be
For my unconquerable soul.
In the fell clutch of circumstance
I have not winced nor cried aloud,
Under the bludgeonings of chance
My head is bloody, but unbow'd.
Beyond this place of wrath and tears
Looms but the horror of the shade,
And yet the menace of the years
Finds, and shall find me, unafraid.
It matters not how strait the gate,
How charged with punishments the scroll,
I am the master of my fate:
I am the captain of my soul.