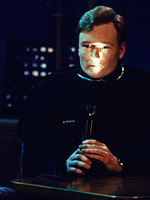 You may have noticed our coverage of the late night transition from "Tonight Show" legend (what else can you call him now?) Jay Leno to former "Late Night" host Conan O'Brien last week.  It was a bittersweet moment.  I'll miss the Leno days if only for reminiscence, but it is unquestionably the next generation's turn.
I did my Conan remembrance back in February but Entertainment Weekly has used the occasion of the pompadoured funny man's taking of the "Tonight Show" helm to showcase a list of 11 (it's the new 10) memorable moments from his 16-year stint as the king of 12:30.  Many of the classics are on the list, of course: The Year 2000, apple picking with Mr. T, and the biggest "Oh yeah!" moment for me, calling up scenes from "Walker, Texas Ranger" with a lever next to his desk.  But one of the all-time funniest moments concerned the 2002 release of "Star Wars: Episode II — Attack of the Clones," and since it's the only movie-related moment (and certainly the funniest), I'll offer up the mag's blurb:
Conan himself wasn't in this bit, but it is legendary. Triumph the Insult Comic Dog lived up to his name, ridiculing a collection of hapless geeks as they waited on line, days before Star Wars: Episode II opened. Pointing to a would-be Darth Vader's array of buttons on his "armor": "Which of these buttons calls your parents to pick you up?"
The bit took place outside the famous Ziegfeld Theater in New York City and was dubbed "Attack of the Nerds."  Here it is, shockingly available (considering NBC's crack-down practices) via YouTube:
O'Brien's stint as host of "The Tonight Show" begins this evening. Guests include Will Ferrell and Pearl Jam.