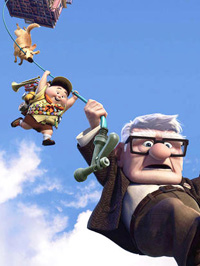 In the biggest non-shock of the year, Pixar has released a unanimously acclaimed new film and it has topped the box office. What is a little surprising is that "Up" managed to make $68.2 million despite a distinct lack of anthropomorphism. While Disney suits will have to continue to sweat over how they are going to make money out of Pixar on dolls and theme park rides, they certainly don't have to worry about making money at the box office. This is their fifth biggest debut yet and puts "Up" in a very good position to out-gross both "WALL-E" and "Ratatouille" by the end of its run (but not "Cars" — go figure). That certainly won't hurt it when the inevitable Best Picture discussion pops up at the end of the year.
Sam Raimi returned to his horror roots and debuted in third place with $16.6 million. Obviously, that's a disappointing figure in a world where "The Haunting in Connecticut" and "The Unborn" can each hit $20 million. It may seem like the world is one big "Evil Dead" fan but the truth is that it's a rather small pocket and they alone can't guarantee good business. The film got better reviews than normal for the genre but alarming declines from Friday to Saturday and Saturday to Sunday seem to have pegged this one as a quick burnout. Summer continues to be the worst place to open a horror film and Universal may have been better off waiting till October.
Last week's champ "Night at the Museum: Battle of the Smithsonian" took a hit from "Up" and dropped 54%. That's not great for a family film but it should rebound in the next few weeks and slowly work towards $175 million or so. Fox can't be too disappointed with that since they essentially remade the same film, adding the bare minimum in terms of new characters or settings. With a cast of comedy legends old and new, you shouldn't have a trailer relying on laughs from Hank Azaria.
"Terminator Salvation" fell a harder 62% and cemented its status as a misfire. It'll take another half-week to hit $100 million and not much more can come after that. Continuing the franchise without James Cameron or Arnold Schwarzenegger seems to have eliminated most of the target audience and an unwatchable product has done the rest.
"Angels & Demons" crossed the $100 million mark at the same time "Star Trek" crossed $200 million. The J.J. Abrams flick also had the best hold in the top 10, off 44% from the holiday weekend. With "Up" the only other May release expected to join it in the $200 million club, who said quality doesn't factor at the box office?
It was a busy week for me at the multiplex as I dropped $30 on "Rudo y Cursi," "Tyson" and "Up." In Rudo's case, save your money and re-rent "Y tu Mama Tambien" or wait until I direct the greatest soccer epic of all time (coming some time in 2018). Tyson is definitely an interesting guy but I'm not ready to call it an interesting movie. And I thought everything regarding Carl and his relationship to Ellie was brilliant and poignant in "Up." It teased at something much more than a kids movie but then somewhere along the lines, in a desperate search for a villain and a conflict, it descended into dogs flying biplanes and I couldn't help but mourn the missed opportunity. Definitely worth seeing though.
Next week is a battle of the comedy stars: Super famous vs. "Oh yeah that guy." Will Ferrell should lead "Land of the Lost" to the victory since dinosaurs have never not done well at the box office. Trailers haven't exactly hinted at a great movie but the overall package can't miss in early June. I'm thinking $38 million but that could be a low-ball.
Todd Phillips helped turn Will Ferrell into a movie star and now he's out to take him down with "The Hangover." Early buzz on this is fantastic and believe it or not, it's the first R-rated release of the summer (Okay, second after "Next Day Air"). Audiences looking for raunchy have nowhere else to turn and a $23 million debut would be a great start.
Academy Award nominee Nia Vardalos returns to the screen in "My Life in Ruins." You could easily substitute the word "life" for "career" as this thing looks like it could only possibly appeal to grandmothers. Preferably senile ones who can't remember that Vardalos already made all the same Greek jokes in her last movie and TV show. $4 million if there's a God out there.
What do you guys think? Here are the weekend's top box office grossers, courtesy of Exhibitor Relations: