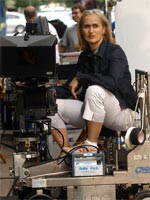 Only the greenest of awards-watchers needs reminding of the following statistic: a mere three women have been nominated for Best Director in the 81-year history of the Academy Awards. It's long been an embarrassing state of affairs — never more so than in the late 80s and early 90s, when in three out of six consecutive years, the Best Picture nominee denied a directing nod happened to be made by a woman.
Still, the sad truth is that the workings of the industry are such that female filmmakers are rarely entrusted with the kind of prestige studio product that grabs awards attention. (It's no coincidence that the three past nominees — Lina Wertmuller, Jane Campion and Sofia Coppola — all come from the foreign and/or independent sector.)
2009, however, offers a considerably rosier outlook. As I was compiling my own early Oscar predictions (which I'll share with you next week) in the wake of Cannes, it occurred to me that the Academy has an opportunity to double that paltry aforementioned statistic in the space of a single year. More than double, actually: looking down the list of awards possibilities, it is feasible — if still not very likely — that as many as four of this year's five Best Director slots could be filled by the fairer sex.
Apparently, I'm not the only one thinking alone these lines: IndieWire's Peter Knegt considers the possibilities of three ladies in his post-Cannes awards speculation column, going so far as to predict nods for all three (based only on films he's seen so far). So who are these women (including the one Knegt isn't considering) with a chance of making Oscar history come January?
New Zealand's Jane Campion is the likeliest contender. As Kris discussed in his Off the Carpet column earlier this week, Campion's "Bright Star" may have come away empty-handed from the Croisette, but it nonetheless easily emerged as the Cannes title with the most Oscar buzz, thanks to an Academy-friendly profile (it's a visually resplendent period biopic, after all) and a raft of rave reviews. It helps Campion that she's a known quantity to voters: 16 years after "The Piano," she stands a strong chance of becoming the first two-time female nominee in the Best Director category.
A darker horse from the foreign arthouse sector is Lone Scherfig, a Danish director who emerged from the Dogme 95 movement with the crossover hit "Italian For Beginners" in 2000. Unlike Dogme peers such as Lars Von Trier, Scherfig is celebrated for her warmth and humanism, both qualities apparently much in evidence in her Sundance darling "An Education," a romantic British coming-of-age tale that has won critics' hearts and prompted speculation that it could emerge as the gentle underdog in this year's Oscar race. Such films don't always carry their directors with them (just ask the directors of "Little Miss Sunshine," one of whom is — fancy that — a woman), but Scherfig's arthouse pedigree is an undeniable asset.
If Scherfig represents the softer alternative, the opposite is true of Kathryn Bigelow, whose bruising, testosterone-laden Iraq War drama "The Hurt Locker" has been wowing critics since its unveiling at Venice last fall. General consensus is that the film is too gritty and action-oriented to make it into the Best Picture lineup — and it's true that the Academy has yet to meet an Iraq movie it really likes — but the physical scale and complexity of the endeavor is of the type that can win a 'lone director.' Meanwhile, Bigelow, long regarded as a game-changer for women in Hollywood, has nothing but goodwill on her side.
Finally, Mira Nair isn't generating quite as much awards talk just yet, but once her Amelia Earhart biopic "Amelia" is unveiled, we'll have a clearer idea of where her chances lie. On her side is that she's at the helm of Fox Searchlight's designated awards heavy-hitter, easily the largest, starriest and baitiest project of the four discussed here. Cause for hesitation lies in Nair's own mixed track record: a terrific filmmaker when tackling subject matter close to her Indian roots ("Salaam Bombay!" netted her a foreign-language Oscar nod two decades ago), her more Western-oriented work has gone awry. (Remember the crash and burn of "Vanity Fair?") As such, she remains something of a wild card — but still stands a chance of making history twice over, as the first non-white female directing nominee in Oscar history.
Bearing in mind that forecasting nominations is enough of a leap as it is, could any of them actually win? I wouldn't count on it: providing they even get in, Scherfig's film seems too small for victory in the top races, Nair's too old-fashioned, while Bigelow likely won't have an accompanying Best Picture nod at all. Campion would appear to stand the strongest chance, but "Bright Star" represents the kind of literary, Anglocentric fare ("Atonement," "The Reader," "The Hours") that routinely gets nominated by the Academy in the top categories, but rarely has enough muscle to win. Still, if two (or more) ladies make the lineup, the (doubtless) ensuing media hype could well put some pressure on voters to break the hex.
That's not even getting into the diverse spate of female-helmed 2009 titles that seem less likely to garner gongs for their makers — from Nora Ephron's "Julie and Julia" to Andrea Arnold's "Fish Tank" to Anne Fontaine's "Coco Before Chanel" — but still point to improving fortunes for women in the industry. Here's hoping.