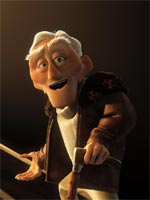 No surprise that the first unmitigated critical slam for "Up" should come from the reliably cranky Armond White, who has made his disdain for Pixar's output clear on a number of previous occasions. His review goes on to lay out his wider problem with "Pixarism" (good word, that), namely that the films are just too cute:
Pixar's price sticker includes enough saccharine emotion to distract some viewers from being more demanding; they don't mind the blatant narrative manipulation of a sad old man and lonely little boy. They buy animation to extend their childhood like men who buy cars for phallic symbols.

Pixarism defines the backward taste for animation. Refuting Chuck Jones' insistence that he didn't create his great Warner Bros. cartoon for children, Pixarism domesticates and homogenizes animation—as if to preserve family values. The only exceptions have been Brad Bird's Pixar movies The Incredibles and Ratatouille—both sumptuously executed in Bird's belief that animation should show "how things feel rather than are. Indulging in the human aspect of being alive." Yet their conceptual weak point was cuteness—same as Up's glossing over Carl's "public menace" court conviction and that inconsistently imagined dog pack.
As someone who finds Pixar more of a hit-and-miss outfit than is generally perceived — and bearing in mind that I haven't yet seen "Up" — I still don't think that's an entirely fair argument. (I do, however, agree that Bird is their most sophisticated storyteller.)
The least of Pixar's films do have an overly cozy world view that hampers genuine feeling, but their best work investigates themes of loneliness and failure with more restraint than their rivals in the mainstream kids' market. (As I was discussing in my piece on "Where the Wild Things Are" earlier this week, melancholy in family-oriented cinema is a tough sell to studios, if not always to families.) The complaint about "cuteness," meanwhile, is sheer perversity: "Bambi" is no less mature a story of loss and identity for the leavening influence of a Thumper.
For my part, my own concern about "Up," going simply on what I've seen so far, is an unrelated and relatively trivial one: after the lush textures and shimmering palettes of Pixar's last two films, why does the pastel-toned animation here look so functional in comparison? Is it just me?
(On another side note, it's an interesting coincidence that White uses Chaplin as a reference point for "Up" in the same week that we discussed the link — or not, depending on your take — between "Monsters, Inc." and "City Lights." The echoes of Chaplin's physical comedy were plain to see in last year's "WALL-E" too … what other Pixarist parallels can you find?)