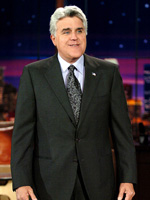 I've been pretty hard on Jay Leno over the years. In the late night wars, he's had neither the comedic inventiveness nor (certainly) the journalistic capacity to become must-watch TV like David Letterman and, to a lesser extent, Conan O'Brien. Even the sober Tom Snyder proved a more intriguing watch for me when he was still on CBS so many years ago.
All of that said, I'm a bit saddened that Leno's final episode as host of "The Tonight Show" is being recorded right now for telecast later this evening. As much as I may have preferred other late night personalities over the years, the fact remains Leno's regular guy brand of humor carried the torch magnificently for the past 17 years. The circumstances surrounding how he landed the gig will always be suspect, but Letterman went off and became his own man, paving the way for O'Brien to make a name for himself at 12:30 and, as of Monday night, finally take up the reigns on "The Tonight Show" himself.  I wrote briefly about O'Brien's final "Late Night" show back in February.
O'Brien's transition to the show was covered in-depth in an insightful New York Times Magazine piece last weekend by staffer Lynn Hirschberg. Early passages have me worried, such as writing staff ideas centered around O'Brien as an outsider in Los Angeles (his new show will be taped daily on the Universal lot). Those will only go so far, perhaps better suited to a guest host than the new face of NBC late night, and the show will need to settle into a more purposeful position sooner rather than later.
Of course, the subtext of Hirschberg's article is that O'Brien, like his soon-to-be time-slot competition Letterman, doesn't have the chummy, next-door neighbor demeanor that Leno has. Therefore, the 50-year-old enterprise could be in jeopardy of losing viewership. His brand of self-deprecation struck a chord with his dorm room demographic, to be sure, but the higher brow isn't what Leno aimed for and might not be what the "Tonight Show" audience wants. The ratings will ultimately tell the tale, but in recent years, I have found myself out-growing O'Brien's antics. I wish him the best as he takes up the reins on Monday, but I wonder if a network desire to stay fresh will put a flagship built on it's heritage in slight peril.
That having been said, you have to admire O'Brien's commitment to his own fan base:
"What I realized is, I'm still doing 'The Tonight Show.' That was my dream. When I can't sleep and it's 3 in the morning, I'm not thinking about Jay. I'm thinking about all the things I want to do on the show. And I'm not thinking about how I'm going to change myself to fit a certain demographic. I just have to block that nonsense out. In entertainment, you have to stake out what you think is right, you have to put out that signal, make sure it's pure and then do it and do it and do it and know that they will come. And if they don't, you have to pack up your bags and say: 'I enjoyed my time here. Sorry it didn't work out.' But the biggest mistake would be to alter my signal to make sure that I reach all these different people. Because then you're lost."
Leno isn't going away, of course. He'll be moving to 10:00 in the Fall (the result of consistent bartering with NBC honcho Jeff Zucker following Leno's disgruntled reneging on an initial agreement to step away). It's a prime time gig Zucker actually offered to Oprah Winfrey once upon a time (she turned him down).
I've been to two tapings of Leno's "Tonight Show" over in Burbank, one of them just a couple of weeks ago. He's an affable guy. Unlike, say, the snooty Bill Maher, he makes it a point to come out before the taping and yuk it up with the audience. He gets Middle America and there's something to be said for that. And as much as my heart has been with Letterman from the start, I'm going to miss the lullaby trumpet that has put me to sleep so many times following Leno's "Tonight Show." His 10:00 gig will surely have a different focus in order to compete with high end dramas elsewhere, so the Leno show we all know, and some loved, will be gone forever in a matter of hours.  The closing of a chapter that big means something.  It's the passage of time writ large.  And I have to admit it's a little sad.
Leno's final week of guests included Mel Gibson (in a candid interview session), Governor Arnold Schwarzenegger (his 25th appearance on the show) and Billy Crystal (who, as mentioned, offered a sing-song farewell and was Leno's first "Tonight Show" guest way back in 1992).  There was also a touching tribute from musical guest Dwight Yokam Tuesday night when he expressed his appreciation at Leno's tendency to walk from his desk to the corner of the stage to watch his acts perform, as well as a pretty heartfelt rendition of "I Will Remember You" from Sarah McLachlan Wednesday.
Prince, ever the music aficionado, scribbled "Jay is the best, even Paul Stanley knows" on a giant pad mid-performance last night.  That would be the Paul Stanley from the band KISS.  Prince was referencing the band's album "You Wanted the Best You Got the Best."  Maybe nine people got it.
Appearing tonight (and recording as you read these words) is the man who'll carry the baton from June 1 on: Conan O'Brien.  Here is a special message from the new host, house band leader Max Weinberg and new "Tonight Show" announcer Andy Richter:
Right on cue.