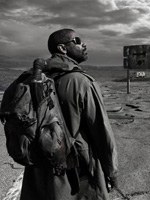 In our daily web round-up posts there tends to be one or two lists in the mix.  I'm increasingly stunned at Premiere's capacity for cooking these things up.  It's almost as if that once-sterling film journalism outlet has become nothing but a list generating machine.
Of course, the reason for lists — you'll hear it from any hit-conscious editor — is traffic.  Readers love them.  And if they have a space to debate said list, perhaps even offer up their own, then the hits keep coming.  I literally had a list mandate of sorts when I was working at The Times of London last summer, which is where the obsession over collectives first started to kind of freak me out.  At least I managed to work movies into one of them, and hey, if you can't beat 'em, join 'em.
Anyway, this is a long-winded lead-in to a recent post by one of our regulars, Chuck of Entertainment Today and Beyond, picking the Top 10 Post-Apocalyptic Films.  With "Terminator Salvation" already in theaters and "The Book of Eli" (which got a first look feature in USA Today Tuesday) and "The Road" still to come, it seems a rather en vogue topic, I guess.
Here's Chuck's list:
1. "Dawn of the Dead" (George A. Romero, 1978)
2. "Planet of the Apes" (Franklin J. Shaffner, 1968)
3. "The Stand" (Mick Garris, 1993)
4. "The Day After" (Nicholas Meyer, 1985)
5. "The Omega Man" (Boris Sagal, 1971)
6. "The Road Warrior" (George Miller, 1981)
7. "Day of the Dead" (George A. Romero, 1985)
8. "The Day of the Triffids" (Steve Sekley, 1962)
9. "Testament" (Lynne Littman)
10. "Miracle Mile" (Steve De Jarnatt, 1988)
Your thoughts?